Articles written by the Reverend Patrick A. Campbell, often reflecting on the week's Scripture readings.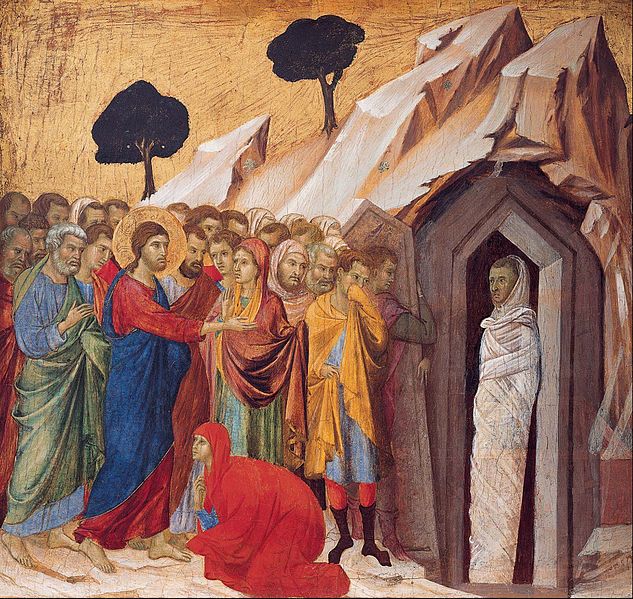 March 29, 2020
Sermon for the Fifth Sunday in Lent. The scripture lessons for that day may be found here.
Reading the same passages of scripture over the years, I am struck how each time the stories and words of the Bible are fresh and new. A passage read years ago looks different when read today. It is a clear sign that scripture is the living Word of God, speaking to us in fresh ways whenever we read it, under whatever circumstances.
This is true for me as I reflect on today's readings. The lessons this morning are those assigned in the lectionary for the Sunday Eucharist on the Fifth Sunday in Lent. For decades I have heard these lessons. Yet today I understand them differently, see them as if chosen for this precise moment in our lives and the life of the world.
Psalm 130 seems written for this moment. The psalmist cries, "Out of the depths have I called to you, O Lord; Lord, hear my voice; let your ears consider well the voice of my supplication." How many of us have lifted our voices in prayer this week with words and emotions echoing this psalm?
In this time of pandemic we lift our voices to God, perhaps from what feels like the depths, asking that God hear us and deliver us. We pray for God to "consider well the voice of [our] supplication." We pray that God hear our heartfelt intercessions for those who are ill, those who provide medical care, those who are anxious and fearful, those who have died, and those who mourn. We lift our voices to God for an end to this pandemic. We pray to God for ourselves and those we love.
But the psalmist doesn't stop at crying out to God from the depths, hoping God hears that cry. Psalm 130 goes on to offer words of hope and trust in God. It says, "My soul waits for the Lord, more than watchmen for the morning, more than watchmen for the morning. O Israel, wait for the Lord, for with the Lord there is mercy; with him there is plenteous redemption…"
We are reminded to wait for God to respond, to expect God to answer our supplication. Psalm 130 assures us that with God there is mercy, there is abundant redemption. All that afflicts and ails us, that causes us worry and anxiety in the middle of the night, will end. God will deliver us. God will bring us safely through the challenges and trials of this life. There is no place God is not present, from which God cannot deliver us.
We hear in the Book of Ezekiel, a vision the prophet has. It is of a valley filled with dry, dusty bones. This seems the last place there could be life. It seems a place forgotten, far from God. It is image of defeat and desolation.
The Lord asks Ezekiel if these bones can live. It seems to me the obvious answer is, no, of course they can't live. There is no life in these bones. Ezekiel does not directly answer the question, but replies God knows the answer. God tells Ezekiel to prophesy to the bones, that God's spirit will enter them. Breath will enter them, sinews and flesh will be attached to the bones. They will live again.
So Ezekiel prophesies to the bones, and they begin rattling, bone coming to bone. Sinews, then flesh, then skin cover the bones. Finally, breath enters them, they stand on their feet, a great multitude.
God tells Ezekiel that in the despair of exile from their homeland, the people of Israel displaced and cut off, God can bring life to them. Though the people say in their great loss, "Our bones are dried up, and our hope is lost; we are cut off completely," yet God can redeem them.
God tells Ezekiel, "I am going to open your graves, and bring you up from your graves." God will do the seemingly impossible, and restore the people to their homeland. The time of disruption and dislocation will come to end. God will be faithful in keeping this promise. There will be new life for the people.
The promise of Ezekiel's vision extends to us as well. God is with us, even when we feel the dryness of anxiety and worry. At times that feel dusty and lifeless, far from God's presence, yet God is with us. From the seemingly hopeless times, God will bring forth life and renewal. And there is the promise that at the last God will not abandon us to the grave, but bring us to fullness of life for eternity.
The promise God will not abandon us to the grave, will not leave us in death, is found in our Gospel today. It is the account of Lazarus, a friend of Jesus, who has died. Before his death, the sisters of Lazarus, Mary and Martha, send word to Jesus that their brother is ill. Before Jesus arrives, Lazarus dies and is buried in a tomb.
On coming to the tomb, Jesus is "greatly disturbed in spirit and deeply moved." The crowd witnessing this sees how much Jesus loved his friend. Jesus weeps at the tomb of Lazarus. This is one of the most touching and emotionally profound moments in the Gospels. It shows clearly the humanity of Jesus. The friend he loved has died, and Jesus is moved to emotion, to crying at his grave.
God is not oblivious to our pain and grief. God is not remote and far removed from us. In Jesus, God is present where we are, in our flesh and blood lives. Jesus is with us in our pain and sorrows, in our suffering and grief. Jesus knows what it is to suffer loss. Jesus rejoices when we rejoice, and weeps beside us when we weep. Jesus is with us to support and comfort us in all we experience.
After Jesus weeps, he calls for the stone of the tomb to be removed. Jesus prays to God, then calls in a loud voice, "Lazarus, come out!" Miraculously, Lazarus comes out of the tomb, bound in his burial clothes.
Jesus has power even over death. There is no power in this world stronger than the love of God made known in Jesus through the power of the Holy Spirit. Just as the dry bones of Ezekiel's vision were not beyond God's power to bring life to the people, so the power of death and the grave is not beyond God's reach.
The promise is that through the waters of baptism we die with Christ that we might also rise with him and share in his eternal life. As we heard in today's reading from Paul's Letter to the Romans, "If the Spirit of him who raised Jesus from the dead dwells in you, he who raised Christ from the dead will give life to your mortal bodies also through his Spirit that dwells in you."
After Lazarus comes out of the tomb, Jesus tells those around him, "Unbind him, and let him go." Jesus comes to each of us this day to unbind us, to release us from what restricts and hinders us. Jesus desires fullness of life for us. Jesus comes that we are released from whatever holds us back from the life he intends for each of us, for every beloved child of God.
I invite you to reflect on what you might need release from this day? What is holding you back, keeping you from the fullness of life Jesus is inviting you to share? How is God present to you now, even in this challenging time of disruption and illness? Where is God leading you? Is there something preventing you from following? Something that is holding you back, causing you to hesitate?
Bring before God in prayer this day those attitudes, practices, and beliefs that keep you from the fullness of life God desires for you. Cast on Jesus all your burdens, worries, and doubts, trusting God can deliver you from them, will give you strength to move through them, and will redeem them.
Look for the times of joy and blessing in these days, for those moments of grace that break into each day, and offer them to God in prayers of gratitude and thanksgiving.
Though we must gather to worship on this Lord's Day from a distance, though there is illness, suffering, and anxiety, I invite you to remember the promise we find in today's scripture readings. God is with us, even in those places and times we feel are far from God's reach. There is no place God's love can't go and can't transform. God is with us in all the cares and occupations of our life, present with us, supporting us, and promising to deliver and defend us.
God is with us now and always, whatever befalls us, wherever we find ourselves. God will not abandon us, not even to the power of the grave. God desires to lead us into the richness of abundant life, to the fullness of life that is eternal.
May we accept this invitation, following Jesus where he leads. As Jesus assures Mary, Lazarus' sister, in today's Gospel, "I am the resurrection and the life. Those who believe in me, even though they die, will live, and everyone who lives and believes in me will never die."
So Jesus promises you and me, this day, and always. Amen.
Sermon March 22, 2020
Sermon for the Fourth Sunday in Lent, March 22, 2020. The scripture readings for this day are found by clicking here.
Let me begin this morning by welcoming all of you and thanking you for being part of this service of Morning Prayer. It is wonderful to gather virtually in this time of social distancing.
As followers of Jesus, we are a community, the body of Christ, who gather each Sunday. It is what we do and who we are. This morning I have renewed gratitude for the technology of social media that allow us to gather in community to worship God on the Lord's Day. Though we are physically apart, the Holy Spirit flows among us, connecting us even now, wherever we are.
At the beginning of Lent, I suggested this holy season of preparation could be a wilderness time. A period of forty days and nights when the familiar practices and routine are stripped away so we can take stock of lives, repent, and return to God. Doing so reorients our lives toward God and prepares us to celebrate Holy Week and Easter.
Never could I imagine then the wilderness we would enter. As the COVID-19 pandemic brings the world to a standstill, our lives have dramatically changed. We are at home, learning new ways to do our work. We are learning how to be a virtual teacher or student. Hourly and service workers have lost hours or their jobs as restaurants and businesses have closed. Each day more people are sick and more have died. Health care workers are stretched thin and facing a shortage of supplies.
Like churches around the world, we can't gather physically as a community. That means we are fasting from the Eucharist, the heavenly food that is a foretaste of the heavenly banquet, the bread of life and the cup of salvation. This is a fast we did not choose, but is required of us.
It was starkly striking to pray today's Collect of the Day. It says, "Gracious Father, whose blessed Son Jesus Christ came down from heaven to be the true bread which gives life to the world: Evermore give us this bread, that he may live in us, and we in him." How we long for this bread in this time. Though Jesus continues to be present to us, we miss the particular way he feeds us in the Eucharist. It will be bliss to again receive the sacrament of our salvation one day.
Fasting from the Eucharist is just one way we are called to sacrifice. We are asked to remain home as much as possible. Certainly this is a sacrifice and challenging. We are asked to do this for the common good. Though we might be healthy, the less we interact with others, the greater the possibility the cycle of viral transmission is broken. Our sacrifice can literally save the life of a neighbor or family member or even ourselves.
This is a time of heightened anxiety and worry. We do not know what tomorrow holds, let alone next month. We are experiencing disruption and social dislocation. We worry for ourselves and those we love, as well for countless unnamed people suffering near and far.
How do we respond to these times? How do we move through each hour and day, for as long as this health crisis lasts? How are we the church when we cannot gather? What does it mean for us in this pandemic that we follow Jesus?
Several answers come to mind. The first is we must not lose heart. Despair is not the answer, not the way for us. This is not a naïve or sentimental posture on my part. It does not deny we are frightened, that we worry. It is not a denial that those we love, or we ourselves, may become ill.
Rather, it is an assertion that at all times we walk in the light of Christ. As we heard in our lesson from the Letter to the Ephesians, we are children of the light. We walk with the light of Christ illuminating our path. For millennia the followers of Jesus have persevered in the face of plague, pestilence, and persecution. They have held fast to the light of Jesus, especially in times that are bleak. We are called to do the same.
For we live by hope and we walk by faith, trusting in the power of God in the face of all adversity. That does not mean everything is fine. It is not to deny the challenge of the present reality. But the hope that is within us sustains us, allowing us to be faithfully grounded in Jesus. We believe his promise that he is with us always. He knows the suffering and trials of this world firsthand and is present with us in ours.
As it says in the Psalm appointed for today, "Though I walk through the valley of the shadow of death, I shall fear no evil; for you are with me; your rod and your staff, they comfort me. You spread a table before me in the presence of those who trouble me; you have anointed my head with oil, and my cup is running over. Surely your goodness and mercy shall follow me all the days of my life, and I will dwell in the house of the Lord for ever."
We trust that when we are fearful and worried, God is present in what we experience. When we are lonely, sad, or despairing, God is with us. God's loving compassion for us is boundless, beyond our knowing. God is always with us. God will not abandon us—ever, no matter what.
Times like these call us to proclaim the good news of God in Christ through the Holy Spirit. We follow Jesus, walking the way of the cross with him. Sacrifice and loving service are the way he leads us, the way of love, the way of true life, the way of eternal life.
As the body of Christ we understand the call to sacrifice for the well being of others. We hear the call to care for all. That others may be healthy, we stay home. We buy only what we need—resisting the temptation to hoard groceries and supplies, depriving others of what they need. We reach out to others in compassion, especially those who are isolated, ill, or afraid.
In times when terrible things happen, when pandemic ravages the entire world, we may wonder where is God? Why doesn't God stop this, now? This is a timeless question countless generations have asked. We do not fully know the mind of God. There are no easy or satisfying answers to this question. Our world is full of suffering and evil. Injustice abounds. Terrible things happen—even to good people. We wonder why. We look for a cause, an explanation.
In our Gospel today, Jesus heals a man blind from birth. His disciples ask him whose sin caused the man's blindness, his or his parents. It was common in the first century to assume a condition like blindness was caused by someone's sin. The disciples want an explanation, to know who caused the man's blindness.
Often we search for meaning by assigning blame. Knowing a cause, having someone to blame, helps us cope with a situation. But Jesus rejects this understanding. He says no one's sin caused the man's blindness. Rather, his blindness is an occasion for the works of God to be revealed. Through the sign of Jesus healing the man, Jesus is revealed as the Son of God. Jesus is does God's work, the presence of God dwells in him. Through this sign, the man born blind comes to believe and worships Jesus.
This pandemic is a time for us to ask how is God being revealed now? How is God present to us in this moment? Where do we see the work of God? Where is God at work in our lives? How can we be instruments of God, revealing God to others, doing the work of God even now, in this challenging time.
Our call is to walk in the light of Christ, following Jesus, the One who makes God known in his words and his deeds. He is the light of the world. We are called to see the world through his light, gazing on all people through his light, with eyes of love, mercy, compassion, and generosity.
The Pharisees in today's Gospel are blind to the work of God in the healing of the blind man. They are sure Jesus is a sinner, not of God. They are certain the healing is not of God. Jesus threatens their understanding of God and their religious practices and authority. They are "blind" to who Jesus is and the sign he does.
Seeing Jesus can be challenging. He calls us out of our assumptions, away from what we may be sure we know about the world and about God. Jesus invites into a new way of seeing, a new reality of being. This new way of seeing is not how the world sees. For Jesus calls us away from the world and into the divine life of God, where we are bathed in light of God's love. By that light of love, everything looks very different. Everyone looks very different.
Jesus came into the world that we might see, understanding who he is through the signs he does. He comes to open our eyes, that we see God present and at work even now, in the midst of so much disruption, anxiety, and illness. As it says in the beloved hymn: "I once was lost but now am found, was blind but now I see…and grace my fears relieved." Jesus assures us he is with us always, in whatever we experience. He will not leave us. He will not let us go. At the last he will gather us into the fullness of his reign, to the heavenly banquet he prepares for us.
May we reflect the light of God's love to others, that they may see God present and at work in this moment, and give glory to God. Let us cast on God all our cares and our burdens, rejoicing in God's promise to be with us always, even to the end of the age. And let us ask how God would have us be the church, and how we are being called to witness to Christ's love in this time of trial. Amen.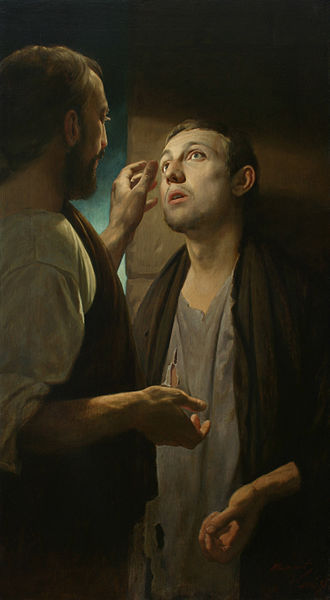 March 22, 2020
At the beginning of Lent I suggested this holy season of preparation before celebrating the mysteries of our salvation at Holy Week and Easter could be a wilderness time. This could be a period of forty days and nights when familiar externals and routine are stripped away so we can take stock of lives, repent, and return to God.
Never did I imagine we would enter a wilderness time as we have. As the COVID-19 pandemic brings the world to a standstill, our lives have dramatically changed. Many of us are at home, learning new ways to do our work or be a teacher or student. Hourly and service workers have lost jobs as restaurants and businesses have closed. Each day more people are sick and more have died.
As a parish, like churches around the world, we can't gather physically as a community. We are fasting from the Eucharist, the heavenly food that is a foretaste of the heavenly banquet, the bread of life and cup of salvation. This is a fast we did not choose, but is required of us.
We are asked to remain home as much as possible. Certainly this is a sacrifice and challenging. We are asked to do this for the common good. Though we might be healthy, the less we interact with others, the greater the possibility the cycle of viral transmission is broken. Our sacrifice can literally save the life of a neighbor.
This is a time many, if not all of us, know heightened anxiety and worry. We do not know what next month holds, let alone tomorrow. We are experiencing disruption and social dislocation. We worry for ourselves and those we love, as well as countless unnamed people suffering near and far.
How do we respond to these times? How do we move through each hour and day, for as long as this healthy crisis lasts? How are we the church when we cannot gather? What does it mean in this pandemic that we follow Jesus?
Several answers come to mind. The first is we must not lose heart. Despair is not the answer. This is not a naïve or sentimental posture. It does not mean we are not sometimes frightened, that we do not worry. It does not mean we or those we love will not become ill.
Rather, it is to assert that at all times we walk in the light of Christ. We are children of the light, baptized into the body of Christ. For centuries the followers of Jesus have persevered in the face of plague, pestilence, and persecution.
We live by hope. That does not mean all is fine. We do not deny the present reality. But the hope that is within us sustains us so we remain faithfully grounded in Jesus. We believe his promise that he is with all us through all ages. That he knows the suffering and trials of this world firsthand and present with us in ours.
We live trusting that when we are fearful and worried, God is present in what we experience. God's loving compassion for us is boundless, beyond our knowing. Though we walk through the valley of the shadow of death, yet God is with us. God will not abandon us—ever, no matter what.
Times like these call us proclaim the good news of God in Christ through the Holy Spirit. We follow Jesus, walking the way of the cross with him. Sacrifice and loving service are the way of love, the way to true life, even the way to eternal life.
In these challenging times, I offer these suggestions of how we, as the body of Christ, might respond to this moment. There are likely others. Please share your thoughts with me.
Pray without ceasing. A great need we have now is for fervent prayer. Pray for those who are ill; for those who have died and those who grieve; for first responders and medical perssonel; for those who are anxious and frightened; for our elected officials that they will act for the common good; for a vaccine; for an end to this pandemic. If you feel lonely, fearful, worried, or anxious, lift these to God in prayer, asking for comfort and a sense of God's presence. If you are thankful, experience a moment of grace, or even joy, express this in prayer to God. Grace and joy still abound in this trying time.
Connect with others by email, text, phone, or social media. If you feel isolated or lonely, reach to out to someone. My guess is you both will be blessed by the connection. If you are interested and willing to help check on other parishioners, please let me know. I will compile a list of folks willing to check regularly on others in our community.
Are you healthy and not at heightened risk (under 60 without underlying health conditions)? Perhaps you would run errands (groceries, pharmacy, deliver food, etc.) for people at home? As more people become ill, this will be a greater need. If you can help in this way, please let me know.
People have lost jobs and regular income. If you are able, please consider making financial contributions. You may donate to the Rector's Discretionary Fund, used to help people in need. You may send a donation to Camp Street Ministries whose food donations from churches have stopped.
Take Sabbath time. Set aside a day for quiet, reflection, restorative activities. If you live with others, commit to time together. Consider limiting time spent consuming news, giving yourself a respite. Talk a walk or bike in a quiet place (maintaining social distancing).
This is a Lent like no other in our lifetime. This is a health crisis like none of us have seen. With the challenge comes the opportunity for us to live in new ways and be the church within the realities of this time.
May we ask where God is leading us, discerning how we are called to be the church now. May we not lose heart, but trust God is with us. We have been marked as Christ's own forever. That promise is trustworthy and true. God will not abandon us, now or ever. Let us walk in the light of Christ, proclaiming the hope that is within us.
I pray for you all fervently each day. Please keep me in your prayers. If you are in need, please reach out to me by email, text, or call. I am available, as always, except for Sunday afternoon through Monday night when I take my Sabbath time. And of course in an emergency I am always available.
May God be with all us now and always. May you know the loving presence of God always.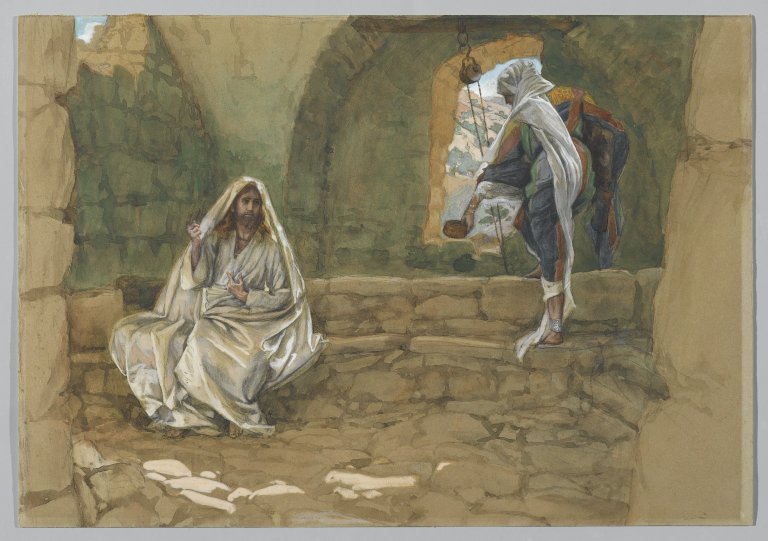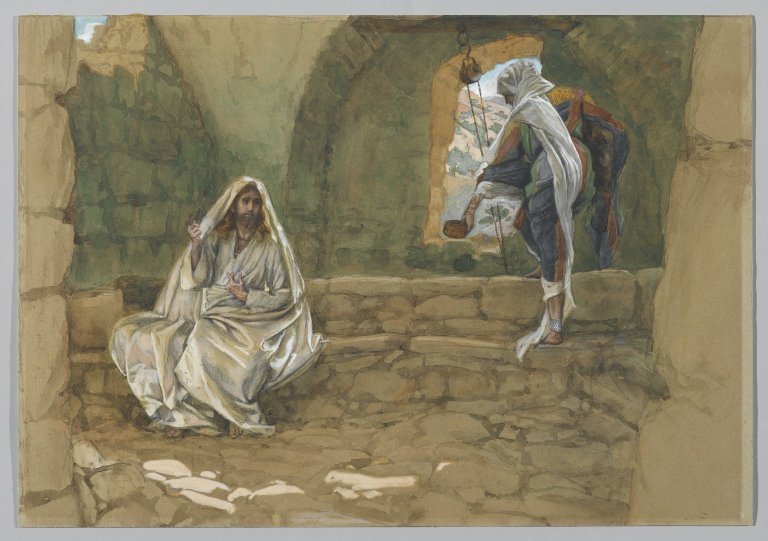 March 15, 2020
Below is the text of a sermon I intended to preach on Sunday, March 15, 2020, the Third Sunday in Lent (Year A) before the Governor asked churches cancel Sunday liturgies in response to the COVID-19 virus pandemic.
I begin this morning by reading a Pastoral Letter from Bishop Knisely, who asked it be read today from the pulpits of all churches in our Diocese.
Dear People of God;
It has been many years since we have been confronted with a situation like we are this weekend due to the spread of the COVID-19 virus. Yet the people who came before us managed this sort of thing and came through it. We will too. We are supported by prayer, by the presence of the Holy Spirit in our midst and by our love of one another.
We are in a state-declared medical emergency. We are also people who, through our baptism, have put our faith and hope in Jesus and the powerful love of God. We are called to live fearless lives – and not to be careless of others. Please be attentive and follow the directions of the Health Department and other authorities.
I am writing to let you know that I have been in communication with the clergy of this diocese and directed them to make some changes in our regular worship, and I have made it clear that I support the decisions they make along with you in how best to respond to this emergency. Some of our communities have decided it is best to close their building for a few weeks. Some are going to continue to hold services, though with modifications.
In an effort to keep people safe – both our neighbors and ourselves – I am directing that Holy Communion be distributed as bread only for the duration of the emergency. I have told the clergy that if they are not feeling well, they are not to serve at the altar. I've also made some recommendations about keeping our distance from each other at the peace, not passing the offering plates, and about coffee hour.
I ask that you, too, be careful if you are not feeling well. Please let us know so that we can provide pastoral support and care as best we can and pray for you.
Please be in touch with your neighbors. Please reach out to those who are alone. A phone call and a listening heart can do wonders to help.
In our congregations there may be people who need to stay home right now because they are at risk. Please think about how we can help them. If we don't have contact information, it would be good to gather and share that now.
I believe in the power of prayer, especially when people of faith join their united voices and lift their concerns to God. I ask you to join me in prayer that this moment will pass quickly, that the vulnerable and those in danger will be protected and that we may be a sign of hope to our communities.
We have posted resources for prayer and worship at home on the diocesan website (www.episcopalri.org). Prayers for the sick may be found on pages 458-460 in The Book of Common Prayer.
I commend this prayer, adapted from one written by Bishop Thomas Brown of Maine:
Jesus Christ, you traveled through towns and villages "curing every disease and illness." At your command, the sick were made well. Come to our aid now, in the midst of the global spread of the coronavirus. Heal those who are sick with the virus; may they regain their strength and health through quality medical care. Heal us from our fear, which prevents nations from working together and neighbors from helping one another. Be present with those in authority who are making hard decisions. Support the medical professionals, emergency responders and our caregivers. In your name Jesus we pray. Amen.
May the God who is Love itself, the one in whom we put our trust, and who is the ground of our hope, be with you today and always.
+Nicholas
I want to begin this morning by offering my gratitude to Bishop Knisely for his leadership during this pandemic. He has offered clear and helpful guidelines and has been a support to parish clergy.
I am also extremely grateful for the leadership of this parish. The Vestry and Building Use Committee have taken seriously the threat before us and followed the suggested practices of state and federal agencies, as well as the Bishop's Office. They have been a great help and support to me. The situation before us is greater than my wisdom alone. Our faithful parish leaders have offered sound counsel and advice, and together we are striving to make the best decisions for the well being of the parish and all citizens of our state.
Thankfully, we continue to gather for worship of God. In times like these, gathering as a community for prayer is important and a comfort. It is time when we come together to support one another. But we do so with changes, such as keeping six feet of distance from one another, not shaking hands or hugging, not drinking from the common cup at communion, receiving communion standing in the center aisle rather than using the altar rail where we are in close proximity.
My hope is we may continue to gather in person for worship through this time. We shall see what the coming weeks hold. Whether we are present in this space, or worshiping God from a distance, I believe we have important work to do as we negotiate this outbreak of the COVID-19 virus.
Around us people are experiencing fear and anxiety. Maybe all of us are. Friday afternoon, before the Stations of the Cross began, a young woman stopped her car on Hope Street, approached me and asked if everything was ok. I assured it was and that I was outside greeting people before Stations. She immediately exhaled and looked more relaxed. Then she asked if I would pray with her for calm in the face anxiety.
I feel we all are holding our breath now. It is uncertain what we will face in this coronavirus outbreak. The most extreme scenarios are beyond frightening. But as followers of Jesus we are called to not lose heart. We are called to resist falling into despair. We are to trust in God, believing whatever happens to the body we are safe with God. God will not abandon us. The power and hold of death is broken through the death and resurrection of Jesus, and with it the power of despair and hopelessness. We can hold onto the certainty of that hope in this time.
As we celebrate this Eucharist, I invite you to lay before God your cares, concerns, and worries. Offer prayers for those who are ill and those who have died. Pray that God will bring this health crisis to an end. Pray that all people act with compassion and caring for their neighbor. Cast on God your fears and anxieties, letting Jesus help carry your burdens and be a balm to your worried spirit.
As followers of Jesus, our call is to bring the calming presence of God to a world torn upside down by anxiety. We are to care for our neighbors, in this parish and in the neighborhoods where we live. Those of us who are well have an obligation to have concern for those in need. Perhaps we can help by bringing them needed supplies, groceries, or food. A phone call, text message, or email to one who is isolated can be a great comfort and a connection to a community lost in illness. It can mean the world to anyone feeling alone and isolated.
We can also be a witness to compassion and caring. I have been horrified by people hoarding food and supplies. I have read news accounts of people buying all available hand sanitizer and selling it at inflated prices. These actions prevent those in need from having basic necessities. Especially those without disposable incomes are unable to purchase in bulk and now have difficulty buying the basics they need. We follow Jesus, the one who owned nothing and served all, especially the least, the forgotten, the outcast, and the vulnerable. We are called to do likewise.
In our Gospel today (John 4:5-42) Jesus encounters the Samaritan woman at the well. It is noon, the heat of the day. She has come to gather water. The hour suggests she is avoiding other people. She undertakes the arduous labor of lugging heavy water at the hottest part of the day, the time others will not be at the well. She carries shame that isolates her from the community.
Though forbidden by religious practice and custom to interact with the unnamed woman, Jesus speaks with her. He acknowledges her, he sees the one who is a social outcast. He engages her in conversation. He rejects the divisive practices of his day.
Jesus knows the woman before she speaks. He knows who she is. Though she has had five husbands, and is now with a man not her husband, he does not condemn her. Instead Jesus offers her living water, water that quenches one's deepest thirst.
She asks Jesus to give her this water and in the conversation recognizes him as the Messiah, the Christ, the Anointed of God. She tells other people in the city about Jesus, and they come to see him and believe in him.
Jesus knows us better than we know ourselves. He knows our story and what we carry this day. He knows what burdens we bear. Jesus comes offering us living water, the abiding presence of the Holy Spirit, dwelling within us.
In Jesus, the woman at well finds acceptance and welcome. She is understood, her life story is known and not judged by Jesus. She is able to let go of her shame and believe in him. In Jesus she finds compassion. Jesus invites her to see and understand who he is that she might worship God in spirit and truth.
Jesus extends the same invitation to us. Jesus comes to us in welcome and acceptance, offering us the water of the Spirit that assuages our deepest thirst. Then Jesus bids us go into the fields that are ripe for harvest, sharing the good news of God's love, acceptance, and compassion to a world that is thirsting for the good news of God.
In this time of fear and anxiety, may we not lose heart, but instead bring all our cares and worries to Jesus. May we drink from the deep well of his love, that his abiding presence sustain us in our trials. And may we always be people of love and compassion, serving others in this time of trial. Through our words and deeds may we faithfully proclaim the loving kindness of God to those most needing to hear this good news.
This day Jesus bids us to not be afraid. He will not leave us comfortless. He is with us always, even to the end of the age. Amen.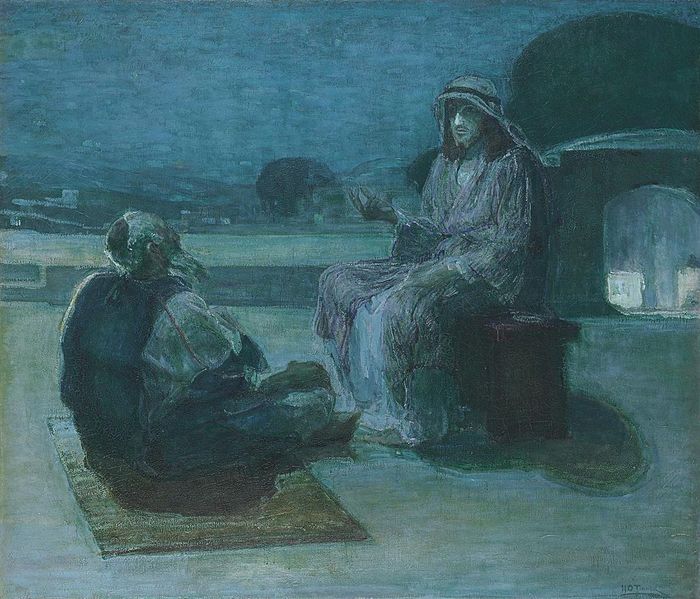 March 8, 2020
Sunday we hear the story Abraham's call (Genesis 12:1-4a). God calls him to set out on a journey without telling him where he is going. He is asked to simply follow. This journey takes Abraham from all that is familiar, including his home and the land of his ancestors. God promises to bring him to a land where he will prosper and his descendants will be many. All who come into contact with Abraham will be blessed by him, just as God blesses him. The lesson ends, "So Abram went, as the Lord had told him."
I find it astounding Abraham uproots his entire life, setting out on a journey knowing so few details. Yet, in faithfully accepting God's call, much is accomplished through Abraham and his descendants do indeed become a mighty nation. He comes to see that God is trustworthy, keeping the covenant made with Abraham, and through him, with his descendants.
Lent is often described as a journey. It begins with the invitation of God to keep a holy Lent, returning to God through repentance. This call is expressed in Greek by metanoia, meaning to literally turn to a new direction or put on a new mindset.
This season offers us the chance to break out of our routine, even the monotony, of our lives. We are called to turn in a new direction, putting on a new mindset, travelling to new spiritual territory.
Repetition of daily patterns can lead to stagnation. We can stop growing and changing in the land of the familiar. We can become indifferent to the landscape. Like Abraham, setting out to a new place brings fresh perspective. Journeying in an unknown land allows our awareness to be awakened. W.H. Auden, in his For the Time Being: A Christmas Oratorio, writes, "He is the Way. Follow him through the Land of Unlikenss; you will see rare beasts and have unique adventures" (Hymn 463/64).
During Lent we may travel through a wilderness that can be frightening, disorienting, and full of "wild beasts." Like the forty days and nights Jesus spent in the wilderness, it can be time that clarifies our priorities. The wilderness journey gives us a time to strip away past behaviors and reorient our lives, focusing anew on God's call to us.
On Ash Wednesday we heard the invitation to observe a holy Lent from the Book of Common Prayer (p. 264). It offers several practices for this season. They include self-examination and repentance; prayer, fasting, and self-denial; and reading and meditating on God's holy Word.
Several Lenten services are offered, such as daily weekday Morning Prayer at 9 am and Stations of the Cross Fridays at 6 pm. There is the Lenten Program, at which we discuss the book The Death of Race by Brian Bantum. These may be helpful Lenten practices that offer new perspectives and open us to God in fresh ways.
As we enter the second week in Lent, may we accept God's call to set out on this journey. Through our Lenten disciplines and practices may we open ourselves to the new landscape of the soul. God desires to bring us to a new place, one where we are drawn closer to the heart of God. In this land is abundant life with God. It is a place where we are blessed and we can be a blessing to others.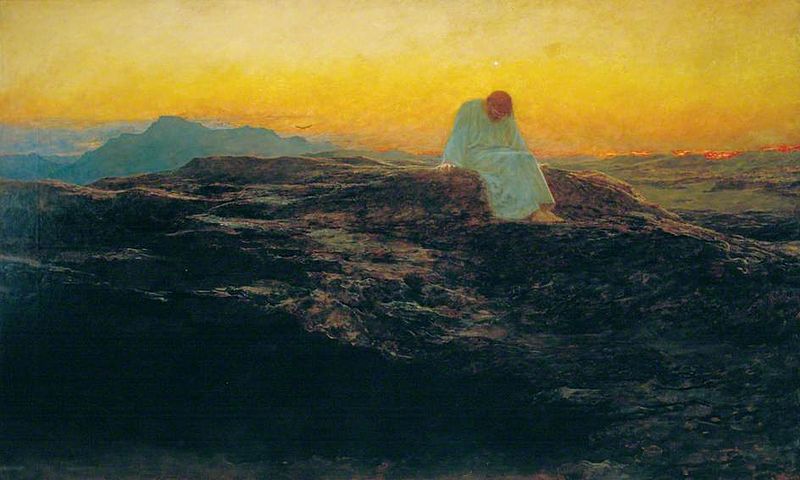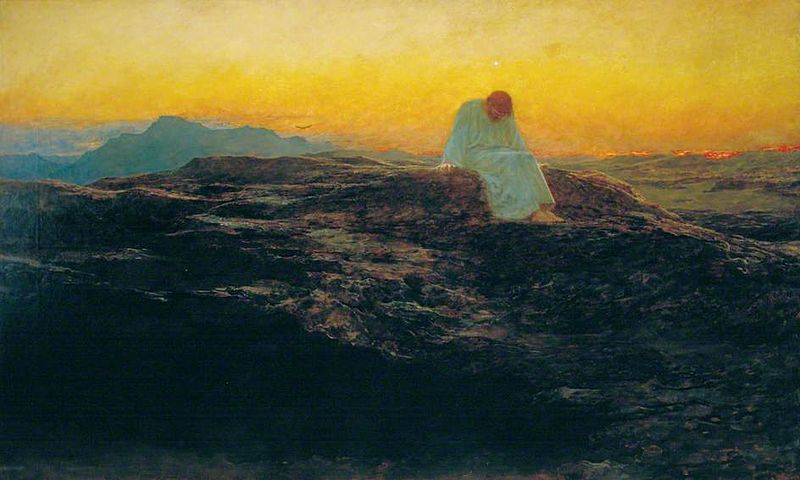 March 1, 2020
Our Lenten journey began this past week with Ash Wednesday. That day ashes made from last year's palm branches were used to make a cross on our foreheads. This was a symbol of penitence and our mortality. We confessed our sins, rejoiced in God's forgiveness. And we acknowledged our need for God, who through Baptism marks and claims us as Christ's own for eternity.
Sunday we hear of Jesus being led into the wilderness where he fasts for 40 days and 40 nights (Matthew 4:1-11). Before his time in the wilderness, Jesus is baptized by John the Baptist in the River Jordan. After his baptism the Spirit descends on Jesus in bodily form. The Spirit leads Jesus into the wilderness.
While fasting in the wilderness, Jesus faces the fullness of his humanity, expressed in temptations. Jesus eats nothing for 40 days and is famished. The devil comes to him, tempting him to make bread for himself from the stones. Jesus does not, however, yield to this, or any of the temptations Satan offered.
We begin the first full week of our Lenten journey focused on Jesus and his fast. In our land of abundance food is readily available for those who are middle class. We can eat what we want, when we want it, even if it is out of season. Rarely, if ever, are we short on food or go without what we might want to eat. In this abundance, our temptations and impulses may go unrecognized.
The call to fast as Jesus did is an opportunity to engage in what may be a new practice. In doing something new, something different, our awareness can be heightened. Deciding not to eat something for a day, or the entire season of Lent, can help us see our cravings and their power in our life. This knowledge may help us to become more disciplined and open us up to deeper relationship with God.
For many of us Lent carries memories of a difficult season focused on our sinfulness and unworthiness. Lent is not a time to feel guilty or unworthy. Its goal is not to punish us or make us miserable. Rather, this season calls us to become vulnerable, honestly examining our lives, and embracing practices and disciplines that will turn us anew to God. The goal of this season is bringing freshness to our spiritual lives, so we are drawn deeper into the loving relationship God desires
Traditionally this is done in Lent by prayer, fasting and self-denial, giving alms, and reading and meditating on God's Word. Making time for God through new practices, our perspective changes. We can see ourselves through fresh eyes and be newly aware of God's presence in our lives and the world.
This journey is demanding and challenging. But Jesus walks with us. Though he was without sin, he knew the power of temptation and human desires. Resting in him we have the power to feel and acknowledge our temptations without giving into them. When cravings come, we can assert our need for God, turning anew to God, asking for God's strength.
During this season of Lent may we you find ways to break the routine of life, entering into new practices that open our eyes and hearts to our need for God. May our Lenten practices and disciplines give us a renewed awareness of God's love and mercy. This season offers us a deeper relationship with God, our neighbor, ourselves, and creation, which is the foretaste of eternal life with God that is to come.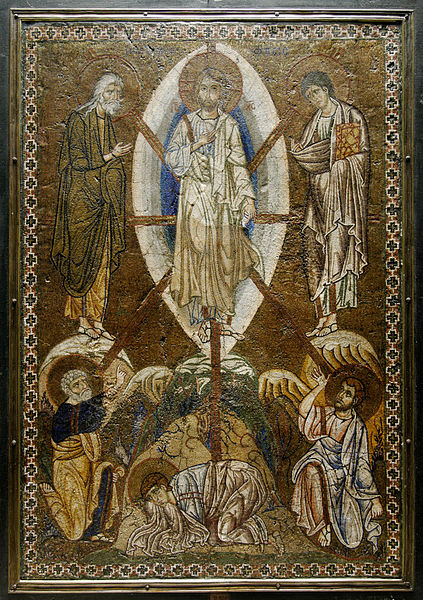 February 23, 2020
Manifest on mountain height, shining in resplendent light, where disciples filled with awe thy transfigured glory saw, when from there thou leddest them steadfast to Jerusalem, cross and Easter Day attest God in man made manifest. [Hymn 135, words by F. Bland Tucker (1895-1984)]
Sunday is the Last Sunday after the Epiphany. This season of Sundays is counted from the Feast of the Epiphany, and its length determined by the date of Ash Wednesday, the first day of Lent. This year Lent begins next Wednesday, February 26.
The Epiphany, a feast celebrated on January 6, reveals Jesus to the Gentiles. In the early days of this season we commemorated the arrival of those mysterious Magi from the East, the Baptism of Jesus in the River Jordan, and the wedding feast at Cana where Jesus turns water into wine.
This Sunday we hear the account of Jesus being transfigured (Matthew 17:1-9). Jesus takes Peter, James, and John up a high mountain. His appearance is transfigured, becoming glowing white. Moses and Elijah appear, talking with him. God's voice is heard, "This is my Son, the Beloved; with him I am well pleased; listen to him!"
This final revelation of the season gives the three disciples a glimpse of the glory that is Jesus' resurrected nature. From this mountain top experience, Jesus turns toward Jerusalem where he is handed over, crucified, and buried. On the third day God raises Jesus from the dead. The three disciples on the mountain glimpse that glory, seeing the fullness of Jesus' nature, if only briefly.
Each year on the Sunday before Lent we close out this season of manifestation, of the showing forth Jesus' divine nature, with this story of transfiguration. In our calendar we are moving from the part of the year focused on Christmas, the incarnation, to the time centered on the yearly festival of Easter, on redemption and resurrection.
Before we arrive at the glory of the resurrection, however, we have a season of preparation. Just as the disciples journeyed with Jesus to Jerusalem, being taught along the way, preparing for what was ahead, so we have forty days to prepare.
Lent is the time to honestly look at our lives and assess how we are living. How is our relationship with God? Are we faithful in worship? Do we pray daily? Are we open to God's desire for relationship, opening our hearts to God's love? Are we caring for ourselves, treating well our bodies that are temples of God's Spirit, made in God's image? Do we love our neighbor? Are generously caring for those in need? Do we welcome those forgotten and at the margins? Are we faithful stewards of all God has given us, sharing generously what we has been entrusted to our care?
On Ash Wednesday we hear words from the Book of Common Prayer (p. 264) inviting us to keep a holy Lent. The BCP tells us this season is marked by self-examination and repentance; prayer, fasting, and self-denial; and reading and meditating on God's Word. None of this is done to punish us. Nor are these things done for self-improvement alone.
Rather, we are called to something more profound and holy: namely to examine our lives, repent of our failings and sinfulness, and do those things that open us to deeper, more faithful relationship with God. These days of Lent are a time to be honest with ourselves about the state of our lives and take on practices that will reorient us to God. This is the season to cast off, to give up, those things which are impediments to the holy life we are called to live as followers of Jesus.
In these final days before Lent, I invite you to take time to examine your life, to pray for discernment of God's call this Lent.
Some questions to focus our discernment include: What are the practices God is calling us to undertake this Lent? What are the things we need to let go off? What practices and habits impede our relationship with God now?
Lent provides the opportunity to be intentional in how we live. In doing so we are promised a share in the resurrection life God desires for us. Though we only catch glimpses of resurrection life now, walking with Jesus we will know it fully in the age to come. Lent offers the time to open ourselves more deeply to the life God desires for us even now, in this age.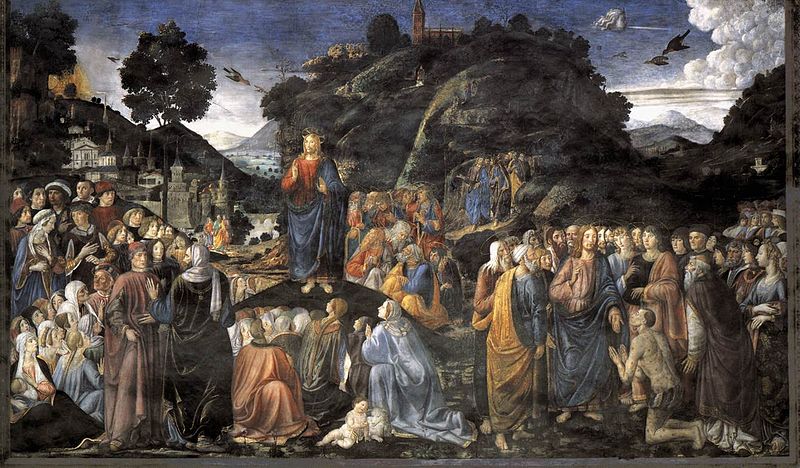 February 20, 2020
Increasingly I find myself disturbed by the level of discourse and rhetoric found in our nation's political discourse. What were once the taunts of children on the playground are becoming the norm in public interaction. Name calling, bullying, and disrespectful words are used by elected political leaders on both sides of the aisle.
This concerns me because we are better, as a people, than this behavior. Mean spirited rhetoric does little to foster the kind of mutual respect and cooperation we need to work through our differences and address the substantial challenges facing this nation. Retreating into warring camps that view others as the enemy will not accomplish much beyond dividing us.
In our Gospel Sunday (Matthew 5:21-37) Jesus calls us to live in a different way. Chapter 5 of Matthew's Gospel opens with the Beatitudes. These statements of blessedness are a call to God's people. Just as God blesses us, so we are to be a blessing to others. The Beatitudes are both a statement of God's reality that will be fully known at the end of the age and a call to action in the present.
Jesus calls us to make real God's priorities now, here on earth. Like God we are to love all, showing others mercy and compassion. We are to reflect the light of God's love to all people, seeing everyone as a beloved child of God. Seeing other people as beloved, even those who differ with us, has implications for our behavior.
In the passage we hear Sunday Jesus calls us to a high standard of behavior. It is one that requires we do not act from our impulses and inclinations. While we may become angry and seek revenge for a wrong someone has committed against us, Jesus calls us to check our impulse and act from love.
Jesus presents a new teaching. His statements begin with the words, "You have heard it was said from ancient times." Jesus offers the received teaching of the Ten Commandments and expands and deepens it. His teaching is introduced with, "But I say to you."
Jesus teaches, "You have heard that it was said to those of ancient times, 'You shall not murder'; and 'whoever murders shall be liable to judgment.' But I say to you that if you are angry with a brother or sister, you will be liable to judgment; and if you insult a brother or sister, you will be liable to the council."
In forbidding murder, God intends we do not harm another person. Murder is an extreme example of harm. While seemingly less serious, Jesus says anger is dangerous. Unchecked it can lead to physical violence and even murder. It can lead to mistreatment of others, verbally or physically. Anger hurts the person holding it. It takes hold of one's heart. Jesus cautions against even calling someone "fool." Doing so is cause for judgment. Words have power and can hurt. Hurtful words tear apart the community and cause division.
Jesus is not saying we should accept any behavior of others or make peace with injustice and oppression. In his earthly life Jesus regularly calls for justice and names the behaviors that should change. But he always does so respecting the dignity of each person. He speaks with love for the other. He does not bully, demean, or belittle. When a person won't change their behavior he is sad and looks on them with compassion.
Jesus reminds us we are called to a high standard of behavior. It requires we check our impulses and first responses, and not act from emotion. We are to speak with love, showing respect even to our adversaries. While we fight injustice we are to be respectful of others and work to build up the body through love.
If we as a community faithfully live this call from Jesus, I believe we can be a real beacon to the world. Having as a core practice the respect of others as we build up the body through love, we offer a strong witness to the world. The light of God's love will indeed shine through us and the kingdom of heaven will touch earth. We will blessed by God and a blessing to all we meet.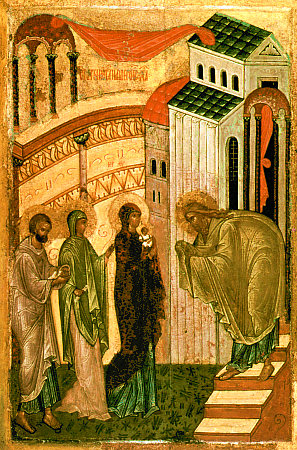 February 2, 2020
February 2 is the Feast of the Presentation of our Lord Jesus Christ in the Temple. It is one of a small number of feasts that are celebrated on Sunday. It is forty days after Christmas and commemorates Mary and Joseph presenting the baby Jesus in the temple as required for all first born sons according to the law.
Known also as Candlemas, this feast brings to a close the incarnation cycle of the liturgical year and is the last feast whose date is fixed in relation to Christmas. On Ash Wednesday we begin the part of the calendar where dates are determined by the date of Easter (which, unlike Christmas, moves from year to year). In France, this feast is the day to take down the manger scene, putting the crèche in storage until next year.
The Presentation is one of the oldest feasts in the calendar. In the fourth century, a nun named Egeria made a pilgrimage to Jerusalem. Likely from Spain, she walked to Palestine and spent several years there. In her diary she recorded details of the liturgies she attended.
Egeria writes that the Presentation in fourth century Jerusalem was "observed with special magnificence. On this day they assemble in the Anastasis [site of the crucifixion and tomb of Jesus]. Everyone gathers, and things are done with the same solemnity as at the feast of Easter. All the presbyters preach first, then the bishop, and they interpret the passage form the Gospel about Joseph and Mary taking the Lord to the Temple, and about Simeon and the prophetess Anna, daughter of Phanuel, seeing the Lord and what they said to him, and about the sacrifice offered by the parents. When all the rest has been done in the usual way, they celebrate the sacrament and have their dismissal" [Egeria's Travels, Wilkinson, Third Edition, 1999, pp. 147-8].
Egeria's description sounds similar to how we will celebrate on Sunday. We too will hear the account of this event in Luke's Gospel (Luke 2:22-40). It describes Mary and Joseph bringing Jesus to the temple where they make the sacrifice required. Being poor, they purchase two pigeons, not able to afford a lamb. In the temple they encounter the prophet Simeon. The Holy Spirit told him he would see the Messiah come to the Temple, and the Spirit leads him to find the Child that day.
In response to meeting Jesus, Simeon says the words we call the Nunc dimittis, the Song of Simeon [BCP p 66, p. 120]. In his canticle, he proclaims Jesus "A Light to enlighten the nations, and the glory of your people Israel." Because of his words, there is the tradition of beginning the Eucharist on this day with a procession while carrying lighted candles, which we will do on Sunday.
The Collect of the Day for the Presentation asks God, "that, as your only-begotten Son was this day presented in the temple, so we may be presented to you with pure and clean hearts by Jesus Christ our Lord." Jesus is revealed in this feast as the Light of the world. He is the One who redeems us, purifying us and making us worthy through his death and resurrection.
May we always walk in his Light, allowing him to illumine our path, leading us into all righteousness. At the last may he bring us to the fullness of his reign, where he presents us to God, and where we will dwell with him for eternity.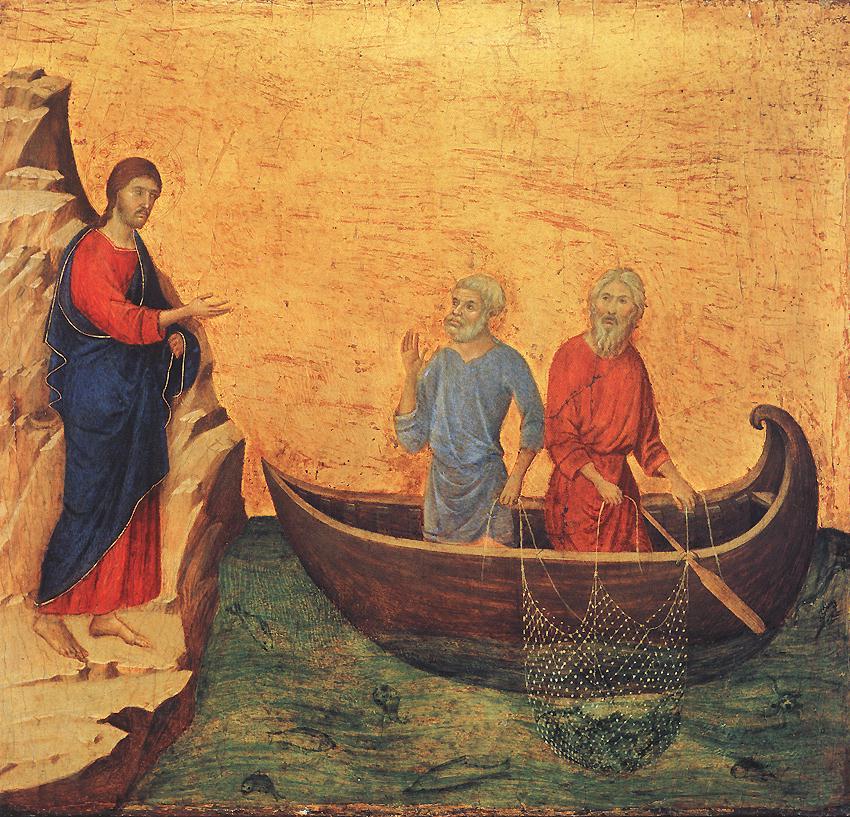 January 26, 2020
This Sunday we read the account from the Gospel according to Matthew of Jesus calling his first disciples (Matthew 4:12-23). It is a striking passage. As Jesus walks along the sea of Galilee he sees two brothers, Peter and Andrew, casting their nets. They are fishermen busy at work. Jesus says to them, "Follow me, and I will make you fish for people." Immediately they leaves their nets and follow Jesus. Jesus does the same with James and John, the sons of Zebedee. They immediately leave their boat and their father and follow Jesus.
Each year when we read the account of Jesus calling his first disciples I am amazed by the story. These men go to work and in the course of the day their lives are upended. They leave behind their work, their families, and all their possessions to follow Jesus.
What was it about Jesus that made this possible? What was so compelling in his invitation to these men? When I imagine the scene I see these fishermen overtaken by Jesus' invitation. There is something about him, they way he interacts with them, that they cannot resist. They must see in him something so compelling as to overtake them, allowing them to give up so much to follow.
The experience of Peter, Andrew, James, and John is the Christian experience. Though we all must, at some point decide to respond and follow Jesus, it all begins with Jesus choosing us. Like these first disciples, we have been called by Jesus into the community of his body. We have been called by hime into this parish community.
The call to which we respond may be different from these men who left everything and everyone they knew to follow. Most of us are not called to leave our professions and possessions behind in order to follow Jesus. But we are all called to leave behind the world we know and enter the new world into which Jesus calls us.
This new world into which Jesus invites us is one in which we give over our heart, mind, and will to be disciples. We allow Jesus to shape and form us into the people we are created to be. We give our all in following Jesus and proclaiming the Good News through our deeds and words.
In saying yes to following Jesus, we become evangelists. Our call is to invite others to know Jesus, to come and see who Jesus is. It is our task to share our experience of life with Jesus with those we meet.
Like those first disciples, may our hearts burn within us with love for Jesus. May we let the light of Christ shine within us for all to see. May we share a faith that is so vibrant and exciting as to be contagious, drawing others to come and see what we experience.
January 19, 2020
The Sundays after the Epiphany illustrate what it means that God comes among us in the person of Jesus. In the incarnation God stoops to humanity, the eternal Word present at creation puts on flesh, and is born a vulnerable baby. Our call, as followers of Jesus, is to understand as best we can what God has done, and is doing, in the incarnation, and then respond to God's loving initiative.
A starting place is asking who is Jesus? Why has he come among us? What does it mean for us and the world that God has put on human flesh, walking among us in the person Jesus? Epiphany is a Greek word meaning "to be manifest" or "revealed." In this week's Gospel John the Baptist reveals to us who Jesus is.
In Sunday's passage (John 1:29-42) John sees Jesus and says, "Here is the Lamb of God who takes away the sin of the world!" The image of Jesus as the Lamb is found throughout the New Testament. It is also our logo, as a parish dedicated to Jesus the Redeemer. At one level it is an odd choice, given a lamb is a vulnerable creature, not especially strong or fierce.
Yet the Lamb of God shows who Jesus is: the one who lays done his life. Jesus, the Lamb of God, is like the lambs slaughtered at the Passover. He gives completely of himself, accepting even death. Through his offering the very power of sin and death is destroyed and we are set free to love.
The Lamb comes taking away the sins of the world, setting us free from sin, from all that keeps us from loving abundantly as God loves. Like Jesus, we are to give away our lives to find the true life God offers. Through the Lamb of God we have the strength to do so.
John's witness to Jesus as the Lamb of God causes two of John's disciples to follow Jesus. Everything about John points to Jesus. His mission is not about himself, but witnesses to the coming of Jesus. John prepares the way for all Jesus does.
When Jesus sees these two disciples, who turn out to be Andrew and Simon (whom Jesus renames Peter), he asks them, "What are you looking for?" Perhaps they are uncertain how to answer, for they reply with a question, "Rabbi, where are you staying?" Jesus tells them, "Come and see."
Rather than explaining what Jesus is doing or hopes to accomplish through his ministry and how precisely the disciples might fit into this, he offers the invitation to experience. They are invited to be with Jesus, entering into relationship with him, learning who he is.
The invitation to experience and relationship is where Jesus starts in calling his first followers. It remains an important piece of the Christian life. Those who study church growth observe that the most effective way to build a community is through invitation of those we know. Inviting those with whom we have a relationship to come and experience our community is the best way to grow the parish. Just as Andrew goes to Simon Peter and invites him to meet Jesus, so we are called to invite others to come and see. Those invited by someone they know are more likely to join the community.
All of us are seeking. Jesus asks us what we seek, and offers the invitation to come and see what life with him means. We will only know if we set out and follow. There is no other way. The promise is that because he is the Lamb of God, he sets us free from everything that alienates us, allowing us to love abundantly.
Like the John the Baptist, may all we do point to Jesus, that through our witness God is revealed in Jesus, and others come to know his promise. Who can you invite to come and see all we experience in this parish community?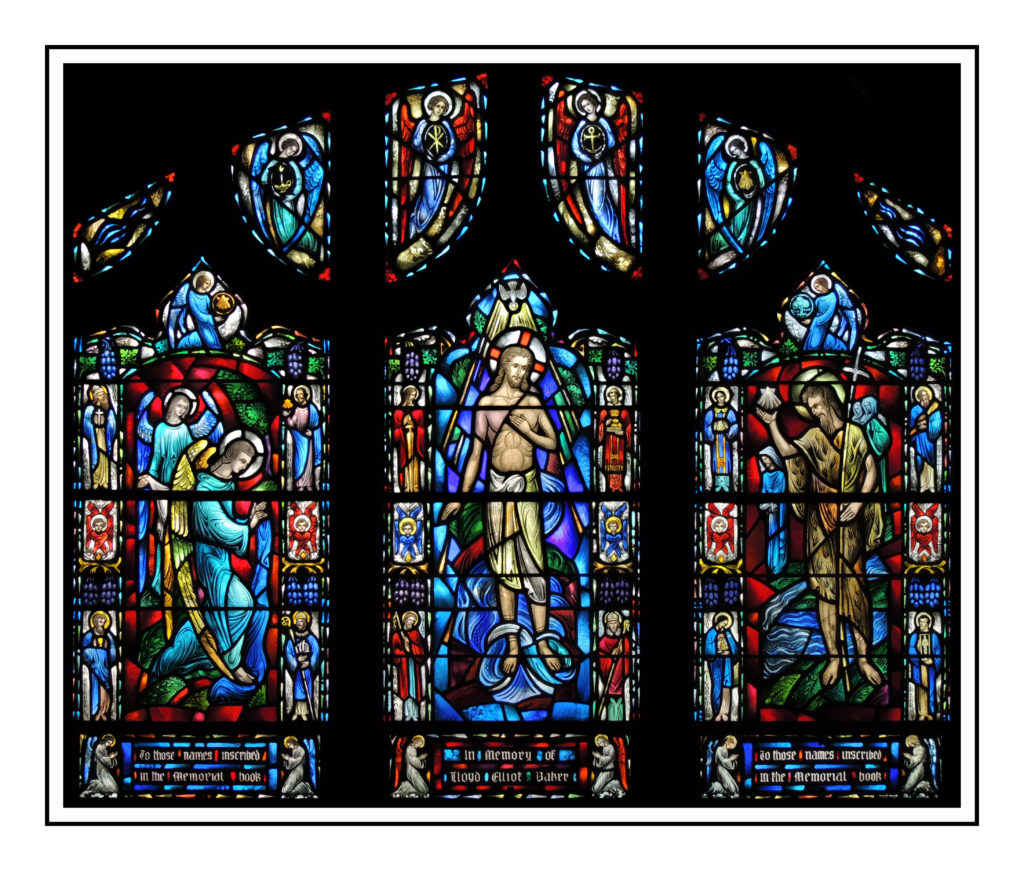 January 12, 2020
On Monday we entered the season after the Epiphany. Epiphany is a Greek word meaning "revelation" or "manifestation." In these weeks after the Epiphany, we discover the true nature of the Child of Bethlehem.
On January 6 we remembered the Wise Men from the East, those astrologers who bring gifts to the Child and worship him. Their visit reveals Jesus as the Savior of the entire world, including Gentiles. These astrologers are the first Gentiles to worship Jesus.
This week we celebrate the Baptism of Jesus by John the Baptist in the River Jordan (Matthew 3:13-17). This event in the life of Jesus has, from the early days of the church, been part of the Epiphany. It reveals Jesus as the Son of God. After he is baptized, the Holy Spirit is poured out on him in bodily form as a dove. A voice from heaven is heard, declaring, "This is my Son, the Beloved, with whom I am well pleased."
The Child born of Mary is fully human, and is also the fully divine Son of God. The scene of Jesus' baptism tells us who he is and why he comes among us. In Jesus God puts on human flesh to lift humanity to the fullness of the divine life of the Trinity.
At the heart of the divine life is being beloved of God. At baptism we are baptized into the Name of God. We put on the identity of Jesus, being incorporated into his body. We are empowered to be his presence in the world. And we become children of God, the beloved of God.
On Sunday Kate, daughter of Rebecca and Daniel Coleman, will enter the household of God through the waters of baptism. She will be baptized into the Name of the Trinity, putting on Christ as her own identity. Her parents, Godparents, and the entire congregation will promise to support her in her new life, as she grows into the full stature of Christ, the life of a beloved child of God.
God's call to live as God's beloved child is demanding. It can be challenging for us to live the life of "belovedness." Our society gives us many messages of how we are not as we should be. The world is predicated on some people having more value, having more worth, than others. People are viewed as commodities, part of an economic system. The intrinsic value and inherent worth of each person is commonly overlooked or ignored.
In his book, Life of the Beloved: Spiritual Living in a Secular World (Crossroad, 2001), Henri J.M. Nouwen writes of the struggle many people have in claiming their belovedness. There are so many negative messages that it is challenging for most people not to define one's identity by them.
Nouwen believes this has a negative impact on our spiritual lives. He writes, "Self-rejection is the greatest enemy of the spiritual life because it contradicts the sacred voice that calls us the 'Beloved.' Being Beloved expresses the core truth of our existence."
If we are able to claim our identity as beloved of God, this leads us to become who God calls us to be. Just after his baptism, Jesus leaves the Jordan River and spends forty days in the wilderness. There he confronts several temptations to deny his nature and identity. When he emerges from the wilderness he has clarity about his identity, mission, and ministry.
The same is true for us. When we live secure in the knowledge we are beloved of God, we can discern who God has created us to be. We learn the particular call God has extended to us. Nouwen writes, "From the moment we claim the truth of being the Beloved, we are faced with the call to become who we are. Becoming the Beloved is the great spiritual journey we have to make. Augustine's words: 'My soul is restless until it rests in you, O God,' capture well this journey."
Jesus invites us to claim our high calling as the beloved of God. God loves us, created us, and knows us better then we know ourselves. God has a vocation and call for each one of us, using us to build the reign of God. This holy journey begins, through the power of the Holy Spirit, by claiming the truth into which God invites us, namely, that we are the beloved of God and in us God is pleased.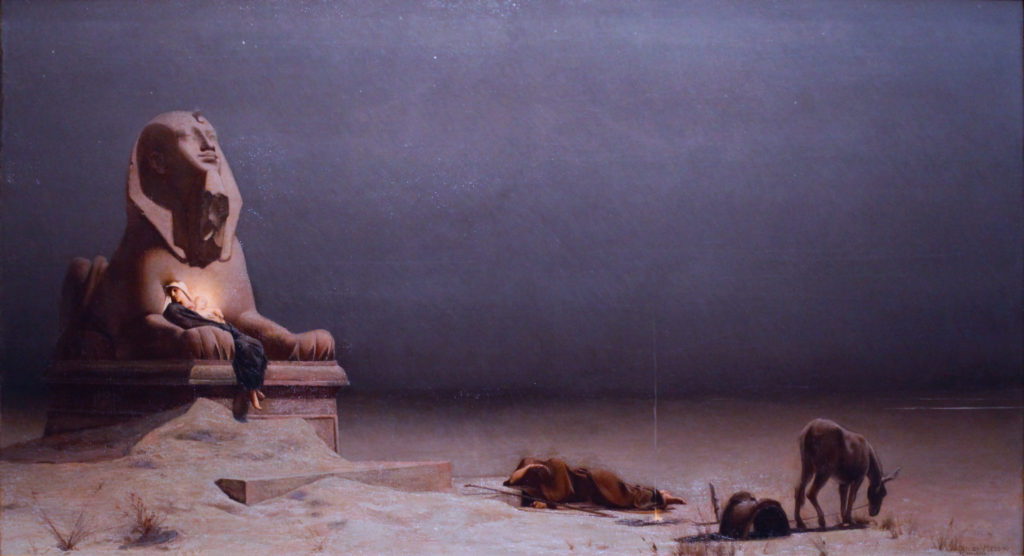 January 5, 2020
We continue our celebration of the Twelve Days of Christmas, this Sunday being the Second Sunday after Christmas Day. The world around has concluded its celebration. But we continue to rejoice, giving thanks for God's great love in coming among us in the Child of Bethlehem.
Sunday's Gospel reminds us that Jesus was born into a world not unlike our own. Matthew's account of the Flight into Egypt tells of the Holy Family becoming refugees (Matthew 2:13-15,19-23). As rulers often are, King Herod was insecure on his throne. His power required a delicate balancing act between Roman rulers, Jewish Temple officials, and the Jewish people. When the Wise Men come to Herod seeking the newborn King, Herod pretends he wants to go worship the child too. He asks these mysterious strangers from the East to bring him news of where the Child is born.
The Wise Men find the baby Jesus in the manger in Bethlehem. They are warned in a dream, however, not trust Herod, so they return to their country without bringing news to Herod. Once the King realizes the Wise Men have deceived him, he becomes enraged and has every boy under the age of two living in Bethlehem killed.
Before Herod's barbarous murder of innocent children, Joseph is warned in a dream to take the Child and his mother and flee to Egypt avoiding Herod's wrath. Thus Joseph, Mary, and Jesus become refugees, fleeing an insecure, violent ruler.
This Christmastide many in our world are refugees, fleeing violence and poverty. Many people fled their homelands and traveled to Europe seeking a new life. Too many died along the journey. Others have encountered nations that don't welcome them or hostility and violence at the hands of local residents.
Episcopal Migration Ministries offers these sobering facts on their website: "Across the globe there are 68.5 million refugees, asylum seekers & internally displaced people all over the globe; 25.4 million refugees who have fled into another country, into conditions that are often not much better than the horrors they escaped; 3.5 million asylum-seekers."
In our own nation there is great debate whether to welcome refugees, especially from Latin America, to our shores. Some political leaders are trying to close our nation's borders to them. Others suggest we should not welcome Muslims for fear of terrorism.
The Biblical record is clear, however, that we are to welcome the stranger in our midst. Throughout Hebrew Scripture there is the call to welcome strangers as the people of Israel were once strangers in a foreign land.
In the 25th chapter of the Book of Deuteronomy, Moses commands the people, before they enter the Promised Land after 40 years wandering in the wilderness, to remember their past, how they were a people enslaved and without a homeland. God delivered them, bringing them to their own land. Thus must never forget what God has done for them.
In the New Testament Jesus goes so far as to say when a person welcomes a stranger, they welcome Christ himself. In Matthew 25:40 Jesus, in the parable of the sheep and the goats says, "Truly I tell you, just as you did it to one of the least of these who are members of my family, you did it to me."
All people are God's beloved children. The Incarnation shows in a profound way the depth of God's love for humanity. God desires relationship with us so deeply as to put on human flesh. The Divine becomes human, so God might lift humanity to the divine life.
Rejoicing in God's love for us, may we love one another as God loves us. May we always welcome the outcast, the stranger, the sojourner, and the refugee.
If you would like to help in a tangible, financial way, donations are welcome by Episcopal Migration Ministries http://www.episcopalmigrationministries.org/ On their site you can learn about this agency of the Episcopal Church and its efforts to assist people displaced by war, poverty, and violence around the globe.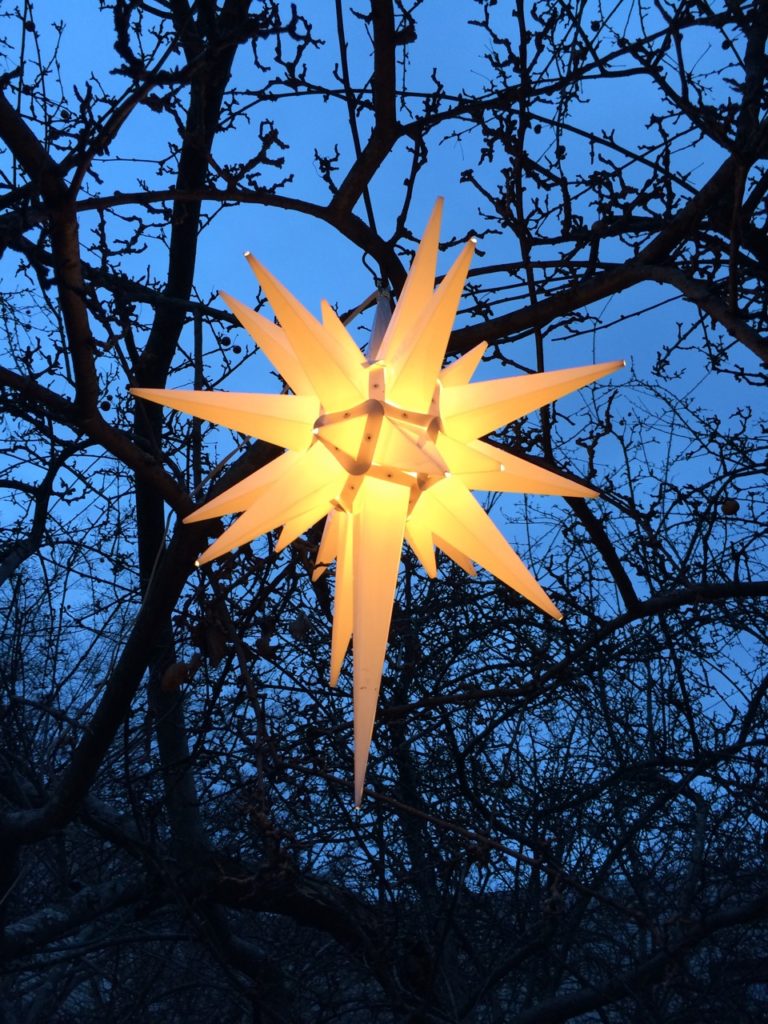 December 29, 2019
This Sunday we hear the Prologue to the Gospel according to John (John 1:1-18). These beautiful words remind us of the magnitude of God's initiative in the incarnation. John tells us, "And the Word became flesh and lived among us, and we have seen his glory, the glory as of a father's only son, full of grace and truth."
The Word that becomes flesh was present at the beginning, before time, before the creation of the world. John's lofty words declare, "In the beginning was the Word, and the Word was with God, and the Word was God. He was in the beginning with God. All things came into being through him, and without him not one thing came into being. What has come into being in him was life, and the life was the light of all people. The light shines in the darkness, and the darkness did not overcome it."
The eternal, all powerful God who created all that is, in the incarnation stoops to put on human flesh. God comes among us as the most helpless and vulnerable: a baby. God loves humanity so deeply as to come to live as one of us. God does so in the person of Jesus to lead us into the light, into all truth, to lift us to the divine life of God. God comes to dwell with us in the Baby of Bethlehem in order to lift us to the divine life of love of the Trinity.
We are not worthy of the advent of God. We did not earn nor merit God's love. The love of God is a gift, freely given to us. And God's love incarnate changes everything. Through the eternal Word made human, Jesus who is fully God and fully human, we are invited to share in divinity. Jesus, through his death and resurrection, sets us free from all sin, evil, and even death, raising us to eternal life with God.
The only response we can make to God's unfathomable love is to love God in return. We respond by opening our hearts that God might be born in us, dwelling in us, filling us with God's love.
One of my favorite Christmas texts is by the poet Christina Rossetti (1830-1894) and is set to music in the hymnal at Hymn 84. She writes,
Love came down at Christmas,/ Love all lovely, love divine; / love was born at Christmas: / star and angels gave the sign.
Worship we the Godhead, / love incarnate, love divine; / worship we our Jesus, / but wherewith for sacred sign?
Love shall be our token; / love be yours and love be mine, / love to God and neighbor, / love for plea and gift and sign.
In this Christmastide may you know the abiding presence of God's love, giving thanks for God coming among us in the Child born of Mary. May we strive always to love in return, loving God with all our heart, mind, and strength, and our neighbors as ourselves.
This comes with all my affection and best wishes for a joyous and blessed Christmastide for you and all you love.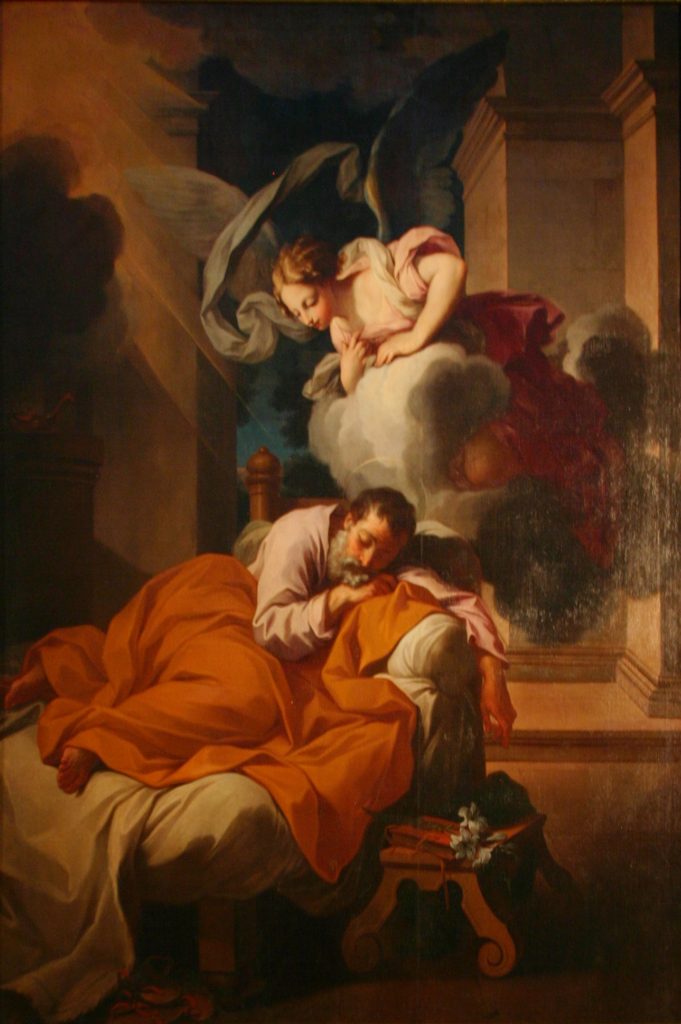 December 22, 2019
Each year on the Forth Sunday of Advent the lessons shift away from the Second Coming of Jesus in glory as our judge to the first advent of Jesus in the Child of Bethlehem. Most years we read from Luke's Gospel and hear from the perspective of Mary, mother of Jesus.
But in this liturgical year we read from Matthew's Gospel and his focus is Joseph. Matthew tells the story of Jesus' birth from Joseph's perspective. Joseph is shown as a faithful and righteous servant of God. Beyond this section of Matthew, we know little of Joseph. The Gospel record is silent and Joseph disappears to history.
Sunday's Gospel (Matthew 1:18–25) opens with the matter-of-fact statement, "Now the birth of Jesus the Messiah took place in this way." In Matthew's account there are no shepherds or heavenly host of angels as in Luke. There are no poetic and soaring words as in John's Prologue. Rather, Matthew tells us Mary is engaged to Joseph and is with child. Being righteous, Joseph decides he will quietly divorce Mary, trying to shield her from public shame and ridicule.
In a dream an angel of the Lord comes to Joseph, telling him "Joseph, son of David, do not be afraid to take Mary as your wife, for the child conceived in her is from the Holy Spirit. She will bear a son, and you are to name him Jesus, for he will save his people from their sins." Joseph does as the angel says, taking Mary to be his wife and naming the baby Jesus.
To be a "dreamer" is not always considered a positive attribute. But I wonder if dreams are at the heart of faithfully following God. While living only in our dreams can be a form of denial, dreams can also express hope for the seemingly impossible.
During this Advent we are called to expect God to act in our lives and in the world. We dream of a world where God's justice reigns, where the poor and hungry are cared for, and the captive set free. It is easy for us to think small, to believe the world can't change. Through our dreams our mind's horizon is expanded. Our deepest longings are given voice.
Advent calls us to expect what seems impossible. We are to expect surprising and new things from God, such as God putting on human flesh in the baby Jesus. We are to dream that our deepest longings for love and justice in this world can be realized.
This Child born with the animals, far from the palace of King Herod, saves and redeems the world by his death and resurrection. To accept that death is defeated by One born a small helpless baby seems the utmost in useless dreaming. Yet we claim this as our central reality as followers of the crucified and risen One.
In these final days of Advent may we dare to dream of a world where love triumphs over hatred and violence. May we expect God to enter into our world, lifting up the lowly and poor. May we long for that Child born so long ago, yet coming to us anew. May we prepare a place in our hearts for him to be born this year.
Let us always follow our dreams, finding God present in our deepest hopes and longings. Like Joseph, may we faithfully answer the call of God given to us. Through our faithful work may God's kingdom, a kingdom that makes the impossible real, be accomplished.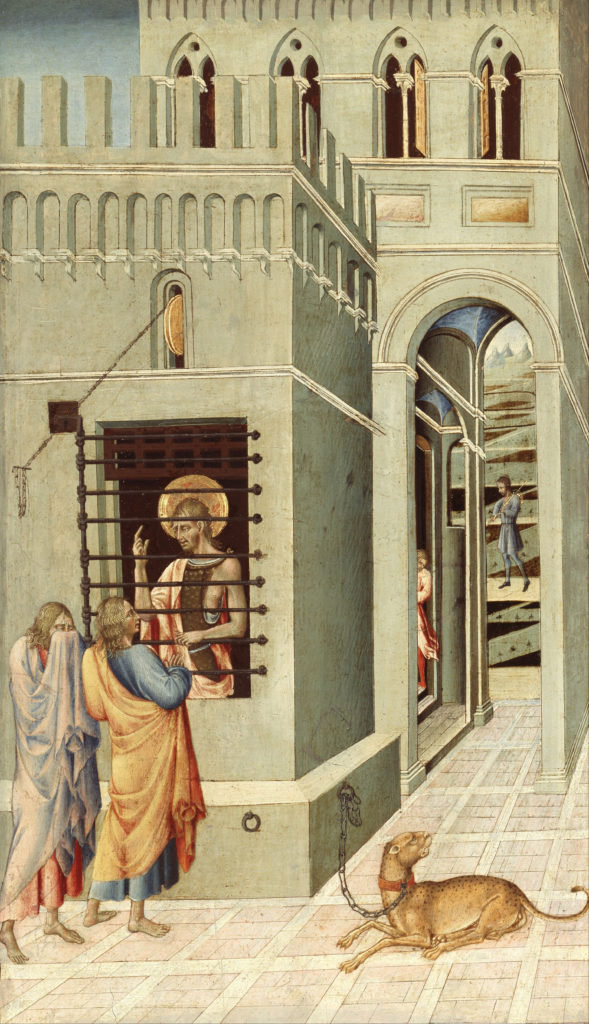 December 15, 2019
The scripture readings Sunday urge us to be a people who rejoice. Several times the words rejoice, joy, and gladness are used. The Third Sunday of Advent is sometimes known as Gaudete Sunday, from a Latin word meaning "rejoice." When Advent was understood as a more penitential season, a short Lent before Christmas, this Sunday reminded the church that, while undertaking penitential acts, do not forgot the joy found in the Christian life.
The first lesson from the Prophet Isaiah (35:1-10) offers beautiful imagery of the wilderness and dry land being glad, rejoicing, and blossoming. The faithful of the Lord sing with everlasting joy and with gladness. All will be made whole and sound: the blind will see, the deaf hear, the lame will leap, the speechless will sing with joy, the leper healed, and the poor have good news preached to them.
Joy is a word used often in our culture. This is especially true during the holiday season. There is an emphasis on having a joyful celebration. For those weighed down by fear and grief, it is difficult to enter into this season marked by cheer.
We might think of joy as a feeling, a sentiment, as something we either have or do not have. When life is challenging, when difficult things happen, this feeling can be in short supply. It is hard to make merry when life seems a burden.
In our Gospel this week we again hear about John the Baptist (Matthew 11:2-11). Last week John was in the wilderness baptizing those who repented at the River Jordan. He proclaimed the kingdom of God is near, the Messiah is coming. Prepare! Get ready. John, the prophet, preached the coming of God and the arrival of God's kingdom. That kingdom comes the promise that all will be set free from what enslaves and oppresses.
This week we learn things have not turned out as John might have hoped. He is in prison. His preaching against the oppressive powers of his age landed him in trouble with the authorities. Speaking truth to the powers of this world will cost John his life, as so often happens to prophets.
From his prison cell John sends his disciples to ask Jesus, "Are you the one who is to come, or are we to wait for another?" John may be wondering if he was mistaken in identifying Jesus as the Messiah, for the powers of the world seem in complete charge. Their tyranny has not been overthrown, as John's imprisonment testifies.
Jesus answered, "Go and tell John what you hear and see: the blind receive their sight, the lame walk, the lepers are cleansed, the deaf hear, the dead are raised, and the poor have good news brought to them."
It is for John, each of us, to decide if Jesus is the One sent to save the people. But before deciding, Jesus urges we look at the evidence. Jesus quotes Isaiah's promise of a renewed creation, of a desert in full bloom, and a people healed and whole. A new order marked by joy and gladness is found in the life and ministry of Jesus.
We do not know if John was comforted by Jesus' answer. But this week's readings offer words of hope. The promise of Advent is not that life will always go well for us. We will not escape trial and tribulation, or suffering and sadness. Rather, the promise is when these difficulties happen, God is present with us, providing meaning and comfort to our troubled spirits.
The joy of this season, the call to rejoice, is not a feeling or a sentiment we try to find and worry if we do not have it. It is a deep hope dwelling within us that casts out fear and anxiety. It is the audacity of hope in the face of the trials of this age.
In this Advent we hold onto the vision of Isaiah. God comes among us in the person of Jesus. God enters human history, into our very lives. Jesus knows the joys and challenges of being human. Jesus leads us through this life to eternal joy, to that place where there is no pain or sorrow, but life eternal with the Trinity.
For the promise of this gift let us rejoice!
December 8, 2019
The holiday season is in full swing. The national Christmas tree in Washington was lit this week. Around the neighborhood houses are decorated with wreaths, greens, and lights. The shopping season is well underway. My inbox is full of shopping offers too good for me to pass up.
This secular season focuses on decorating, gift giving, and gathering with family and friends. This month can have a frenetic pace. Additionally, many feel pressure to create the perfect holiday atmosphere. There is pressure to catch the "holiday spirit" and be merry. In December I often hear people talk about the pressure of these expectations and relief when the holidays are over. It is easy to become lost in the pressures of the season.
In contrast, the season of Advent offers a time to focus on what is essential and has deeper meaning. We have the gift of this season of preparation. It is a time to watch for what God is doing, living by the hope that God enters into our lives and the world. This is a season of honesty and stripping away.
One of the central figures of Advent is John the Baptist. John is a singular character. Living in the wilderness he wears camel's hair and eats locusts and wild honey. His message is repentance. In Sunday's Gospel (Matthew 3:1-12) he proclaims, "Repent, for the kingdom of heaven has come near." He preaches the longed-for Messiah is coming. John calls the people to prepare for his arrival by stripping away the non-essentials and setting their lives in order.
John invites the people to metanoia, a Greek word richer in meaning than the English "repentance." Metanoia is turning in a new direction, or putting on a new mindset. It is a call to turn to God, turning away from things that distract us from following Jesus. It is letting go of whatever turns us from God.
John warns the people to be ready, because the Messiah is coming. He will baptize with the Holy Spirit and fire, gathering the wheat and burning the chaff in unquenchable fire. John's preaching is very different from what we hear in the world around us. It is not a call to activities and buying things, but to embrace God's priorities. John invites us to live by what really matters.
Part of John's message is judgment. The first weeks of Advent focus on Jesus coming at the end of the age to judge the living and the dead. We are to watch, wait, and be prepared for we do not know when Jesus will come again.
Hearing about judgment can be difficult. Many of us left religious traditions that used the threat of judgement in harmful ways. In my own childhood I was taught sin is a violation of God's rules. God kept track of my offenses. My sins, I was told, turned my soul black. If it became all black, I was going to hell. As a gay child, I understood my identity was being judged and I, as a person, was found sinful.
The judgment John proclaims could not be more different. Jesus comes not to condemn the world, but to love the world. His judgment is with eyes of love and the desire to draw all people into loving relationship with God. Sin is not violating a list of divine rules that must be followed. Rather, sin is any action or thought that prevents our relationship with God, the creation, others, and ourselves. Sin makes us gods, replacing God's place in our lives. Sin is alienation and estrangement. It is whatever holds us back from becoming the full creatures God intends. It is living by apathy and complacency instead of creativity and abundance. It is the way of death, not life.
Jesus comes with the fire of the Holy Spirit to burn away what keeps us from living the rich and abundant life of God. The call of John the Baptist to reorient our lives away from the trappings of our world, turning instead to the meaningful life God desires for us. It is the call to journey to the barren wilderness where we know clearly our reliance upon God. In the bareness we are invited to turn with our whole being toward his most gracious rule. In that desolate landscape we encounter the One who gathers us with abundant love and compassion.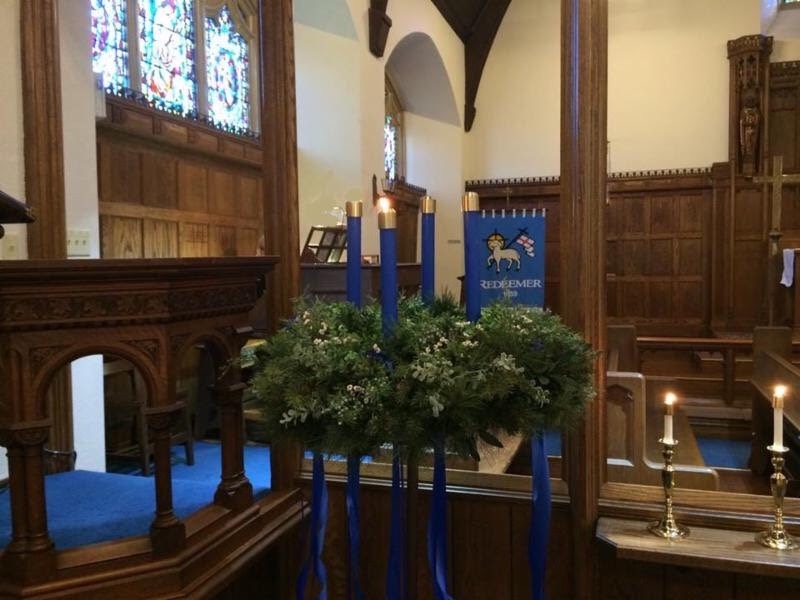 December 1, 2019
Sunday, December 1 we begin a new liturgical year with the First Sunday of Advent. As the natural world moves towards winter, with daylight growing shorter and temperatures colder, we light candles on the Advent wreath and watch and wait. In the gathering darkness, we trust God's promise that Jesus, the Light of the world, is coming and no earthly power can extinguish his light.
Advent, from a Latin word meaning "coming," has the themes of joyful expectation, watching, and preparing. The first week we are called to be ready for the coming of Jesus at the end of the age, when history will be fulfilled and all creation redeemed. We do not know when this will happen, so we are reminded to be expectant.
When Jesus returns all powers of this world will come to an end. There is comfort in this promise, when so much in our world seems so wrong. Jesus promises the love of God will defeat the injustices of the present time. God's kingdom will come and love will triumph over hatred and evil. Even death will have no power. In this we place our hope. In this hope we watch and wait.
The second and third weeks of Advent offer John the Baptist as the central figure. John comes preparing the way for our Savior, calling the people to repent. This call of John is about conversion, in Greek metanoia, literally turning to a new direction or mindset. This new life John proclaims is about living the kingdom of God, caring for those in need, putting right our relationship with God and our neighbor.
On the last Sunday of Advent we turn our attention to the first advent of Jesus at Christmas. This liturgical year (Year A in the three year cycle) we read from the Gospel according to Matthew. Matthew's focus is on Joseph. Joseph is troubled by Mary's pregnancy because they are not yet married. Joseph intends to quietly divorce Mary. Being attentive to God, Joseph listens to God's word as it comes in his dreams. This message changes Joseph's mind and accepts his vocation as husband to Mary and earthly father to Jesus.
These weeks of Advent are a time of preparation for the festival of Christmas. Just as we have Lent to prepare for Easter, so we have these four weeks. Unlike Lent, however, it can be difficult keeping Advent as a distinct season. In the world around us Christmas is in full swing. Advent can be lost in the noise of many demands on our time.
During the season there several special events that offer a time of deliberate preparation. On Sunday, December 8 is the annual Festival of Lesson and Carols at 5 pm. This service includes scripture readings for Advent with beloved Advent hymns and choir anthems. It can help us focus on preparing as well as the hope we hold on to
The Advent Retreat Day is on Saturday, December 14. It begins with Morning Prayer at 10:00 am in the church. The day includes time for prayer, reflection, and conversation, and ends with the Eucharist. With all the demands of the season, this day can help prepare our hearts, giving us some time of peaceful quiet.
Other resources for the season include prayers for lighting the Advent Wreath before dinner. This devotion can be shared by the entire family and help to focus us on the season. Copies of the devotion are available at the entrance to the church. There is also an Advent calendar available there with scripture verses and activities for Advent.
May we find times of silence in the midst of the busyness around us. May this season be a rich time of preparation for us, leading to a blessed and joyous Christmastide. May intentionally preparing now open our hearts to receive the gift of the Christ Child who desires to be born in us at Christmas. May we be ready to receive this most precious and life changing gift.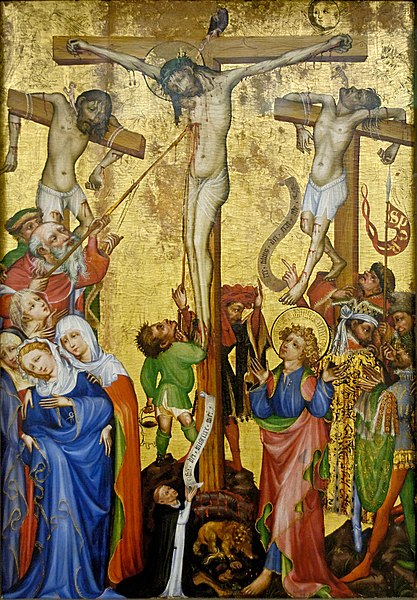 November 24, 2019
This is the Last Sunday after Pentecost, the final Sunday of the liturgical year. It is common in the Episcopal Church these days to call this day "Christ the King." This title is from the Lutheran and Roman Catholic calendars, though the Book of Common Prayer does not use it.
It is easy to see why we might import this practice. The Collect of the Day names Jesus "the King of kings and Lord of lords." In the first lesson (Jeremiah 23:1-6) the prophet writes, "The days are surely coming, says the Lord, when I will raise up for David a righteous Branch, and he shall reign as king and deal wisely, and shall execute justice and righteousness in the land." As followers of Jesus we interpret this passage as an ancient prophecy of Jesus who, as a descendant of David, reigns as the just King for eternity.
There is, however, an inherent danger in casting Jesus as King. It is tempting to apply the imagery and politics of earthly monarchs to our Lord and Savior. Yet Jesus is not at all like earthly rulers. Jesus does not amass vast wealth on the backs of the poor who cry out for food. He does not undertake military campaigns to conquer lands and gain influence. He does not gather accolades and honorifics to himself.
Ours is a King unlike any other. The reign of Jesus is one of self-emptying. Jesus lives by humble loving service, seeking not honor for himself, but instead serving the least. Jesus is the King who invites his friends to a last meal and kneels on the floor washing their feet—even of the one who will betray him.
It is fitting our Gospel reading Sunday (Luke 23:33-43) is Luke's account of Jesus hanging on the cross. This is his throne. Jesus reigns from the tree. From this throne Jesus prays, "Father, forgive them; for they do not know what they are doing." While dying an agonizing death, he forgives those who kill him. He silently endures the mocking of the soldiers watching him die.
In this account we find the core of who we worship as our King. Ours is not a king who amasses wealth, wages war, or seeks his own glory. Rather, our King lives by humble loving service, giving away everything, even his very life. He is raised to resurrection life, destroying the very powers the rulers of this world live by.
For we are citizens of God's reign. We worship and obey the King who reigns from the cross. In Jesus we have a King who knows the challenge of suffering and pain, who is present to us in our travails. In him we can trust that death is the gateway to eternal life.
We are called to live like him. Our call is to reject wealth and possessions, having only what we need to live. We are to give from our abundance that others may have what they need. We are called to forgive, showing mercy and compassion to those who hurt us, loving our enemies as God loves us. We are to live by peace, not raising the sword against another, but being agents of peace and reconciliation. And we are called to loving service, getting on our knees to wash others' feet.
We worship the One who is indeed King of kings and Lord of lords. Baptized into his body, taking to ourselves his very identity, we are his presence in the world. May we witness to his love through our words and deeds. Rejecting the corrupt powers of this world, may we be conformed to his most gracious rule.
Crown him the Son of God before the worlds began, and ye, who tread where he hath trod, crown him the Son of man; who every grief hath known that wrings the human breast, and takes and bears them for his own, that all in him may rest.
Crown him the Lord of life, who triumphed o'er the grave, and rose victorious in the strife for those he came to save; his glories now we sing who died, and rose on high, who died, eternal life to bring, and lives that death may die. Words: Matthew Bridges (1800-1894), Hymn 494, Hymnal 1982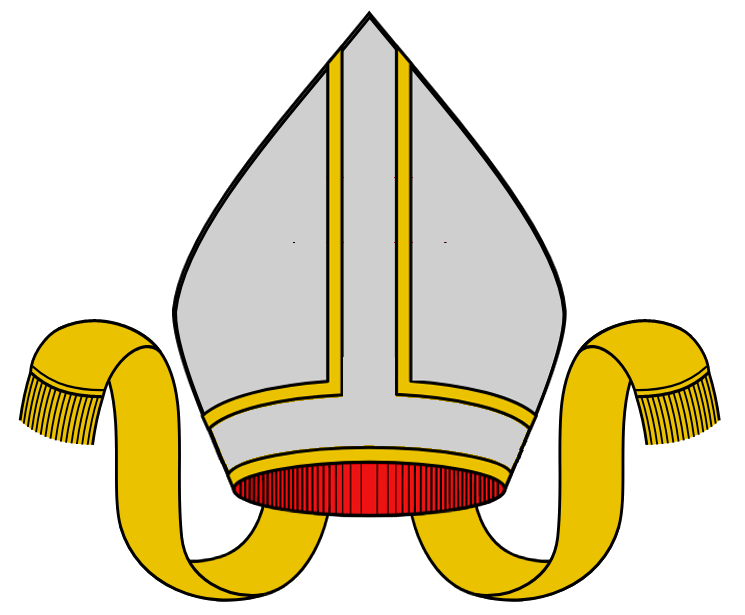 November 17, 2019
Q. What is the ministry of a bishop?
A. The ministry of a bishop is to represent Christ and his Church, particularly as apostle, chief priest, and pastor of a diocese; to guard the faith, unity, and discipline of the whole Church; to proclaim the Word of God; to act in Christ's name for the reconciliation of the world and the building up of the Church; and to ordain others to continue Christ's ministry.
Book of Common Prayer p. 855
Sunday we welcome the Rt. Rev. W. Nicholas Knisely, XIII Bishop of Rhode Island, to the Redeemer for his visitation. The visit of our bishop is a cause for celebration. We welcome him as he celebrates and preaches at both liturgies. You are invited to a Bishop's Forum at 9 am when the Bishop will discuss the Episcopal Church, the Anglican Communion, and the upcoming Lambeth Conference of bishops. At the 10 am Eucharist he will Confirm Hailan Whelan. There is a reception in the Assembly Room following this liturgy.
The visitation of the bishop is an important occasion in our life as a parish and connecting us to the ministry of the wider church. An Outline of the Faith, also called the Catechism, provides an explanation of our faith in question and answer format. It teaches that the ministry of a bishop is "to represent Christ and his Church, particularly as apostle, chief priest, and pastor of a diocese."
While we so often are focused at the parish level, the reality is the basic unit of the Episcopal Church is the diocese. The bishop is our chief priest and pastor. Each priest serves a parish or mission as the bishop's representative. With more than 50 churches, he can't be in every parish each week. When the bishop visits we see in a tangible way, through his presence, office, and ministry our connection to the diocese and to all Episcopalians in the state of Rhode Island.
The Catechism also teaches the bishop's ministry is "to guard the faith, unity, and discipline of the whole church." A bishop is not just head of a diocese, but also has a role in the wider church and is a symbol of the unity of the church. In The Episcopal Church bishops take their place in the House of Bishops, one of the bodies that makes up General Convention (the other is the House of Deputies). When General Convention is not meeting, the House of Bishops continues to meet, praying and working together. Through our bishop we have a connection and relationship with other Episcopalians.
Bishops also are connected through the world-wide Anglican Communion. Approximately every ten years the Archbishop of Canterbury gathers bishops from around the world for a time of prayer, study, and conversation at Lambeth, England. The next gathering is in 2020. Apart from the Lambeth Conference, bishops from the Anglican Communion work together in various ways.
The visit of Bishop Knisely connects us with the church in this state and around the world. Bishops ordained in the Episcopal Church stand in an unbroken line stretching back to the first apostles. Each bishop is ordained by a bishop in this succession. In our bishop we are connected with the church across time, from the earliest followers of Jesus to the present and the future.
This Sunday let us welcome with joy Bishop Knisely, giving thanks for his presence and ministry. In him may we glimpse our connection to Christians around the world and from every age. Together with him may we faithfully make known the reconciling love of God, proclaiming the good news of Jesus, and building up the Church.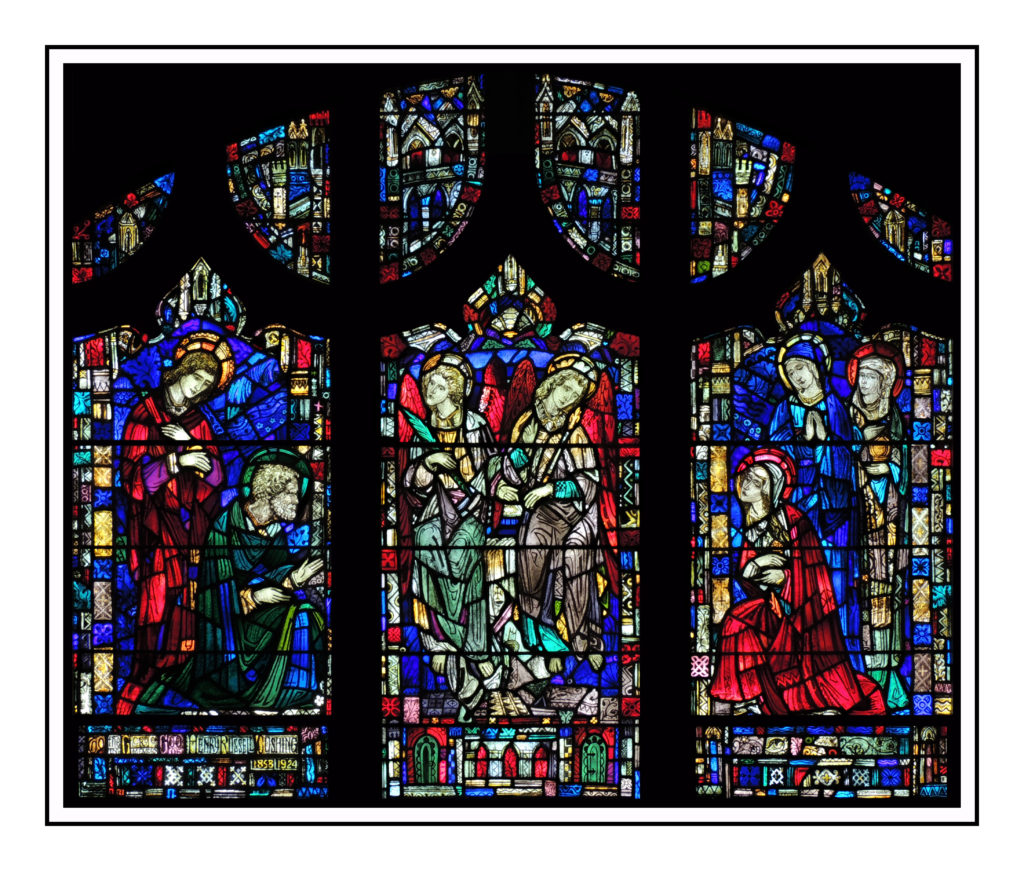 November 10, 2019
Asking questions can be useful. It is one of the best ways to get to know someone. In listening to someone talk about their life and experiences, we show ourselves curious and interested. We can learn who they are. Broad, open ended questions can help a person share the story of their life.
Another way questions are used is in court or Congressional hearings. In these settings questions are posed to clarify someone's actions or knowledge. Questions can be posed in such way to push the one testifying into a corner, trapping them in an inconsistency.
In our Gospel this week (Luke 20:27-38) the Sadducees use a question in this way. Not believing in the resurrection of the dead, and using scripture to justify their beliefs, they create an outlandish scenario to entrap Jesus. They pose a hypothetical story. A woman's husband dies and they have no children. According to the law the widow's brother would marry her. In their story, this man also dies. This happens with seven brothers. The Sadducees ask Jesus whose husband she will be in the resurrection.
Not believing in the resurrection, the Sadducees are trying to trap Jesus. But as often happens, Jesus does not accept their challenge. Instead, he tells them they do not understand what happens after death. Resurrection life is not like earthly life. The ways and rules on earth do not apply in heaven. People are not given and taken in marriage.
Jesus catches the Sadducees by surprise. He offers them mysteries they have never considered. They asked their question to trap Jesus in a falsehood. Instead, Jesus observes that they limit God with their thinking. Their ideas are not expansive enough to accurately reflect the reality of resurrection life.
Jesus teaches that God does not follow our ways and customs. In the age to come life is changed. In resurrection the dead become new creations. Jesus says, "They are like angels and are children of God, being children of the resurrection." In resurrection a new life is found. While it is the continuation of this life, it is different. In resurrection all are changed, raised to a new life, a new reality.
This is not to say the love we share now with others will end. It will not. But we should not assume what we know on earth will be replicated in the next life. We do not know what awaits us after death. But Jesus offers the promise that in him we will know life abundant and eternal with God and those who have gone before us.
Jesus concludes his exchange with the Sadducees by saying God is God of the living, not the dead. God calls us to life, not death. The power of the resurrection not only changes us after we die, it is power in this life too. Resurrection promises the death wielding ways of this world will not triumph over the children of God.
Resurrection life is the way God makes all new, bringing death from life. It is the power that allows us to face the evil of this world and boldly proclaim Jesus crucified and resurrected. It is the hope within us that all that is unjust in this world will be righted by God's love. Resurrection life gives us the strength to let go of fear that holds us back. It calls us to venture from the safety of nostalgia into the unknown future, trusting the power of God to protect and guide us.
Resurrection brings us out of isolation and shame, reconciling us with others and God. Through resurrection we are brought into community. We are raised from sin to forgiveness, from death to new life.
God is God of the living. God calls us to life in the midst of death. What are the ways God is calling us to expand our thinking? How is the Holy Spirit moving us to broaden our understanding of God? What places of death, stagnation, and complacency is God calling us to leave behind? What is the new life God desires for us today?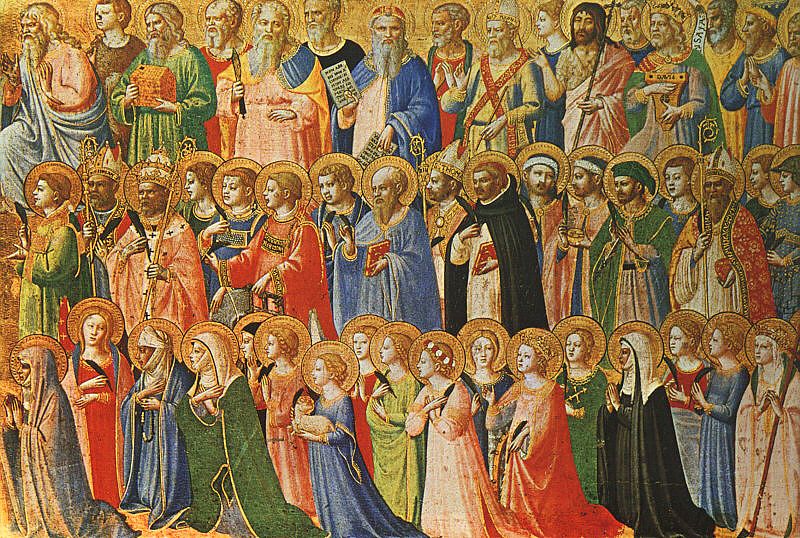 November 3, 2019
As I walked on Hope Street the past several days, especially after dark, I was struck by the number and complexity of Hallowe'en decorations I saw. Some houses sport elaborate displays of cobwebs, spiders, ghouls, and orange lights. These decorations are far more than the carved pumpkins of my youth.
While anecdotal, it seems to me Hallowe'en has grown in popularity over recent years. The observance is not just for children as more adults celebrate. My Facebook feed offers numerous Hallowe'en treat recipes, decoration and costume ideas, and announcements of parties.
Some Christians are uncomfortable with Hallowe'en and its emphasis on ghouls, goblins, and zombies. Some worry demonic influences are at work in the celebration of this day. Historically, however, Hallowe'en is linked with the feast of All Saints' Day and All Souls' Day that follow it. These three days are sometimes called the fall Triduum (Latin for "three days") also called Allhallowtide.
Hallowe'en is a contraction of All Hallows' Eve. The hallowed are the saints remembered on November 1, All Saints' Day. It was believed those who had recently died wandered the earth until All Saints' Day. On All Hallows' Eve it was the final chance for them to wreak vengeance on those still living. The recently dead, it was believed, wore costumes disguising their identity.
At the heart of Allhallowtide is the belief that over these days the divide between the living and the dead is thin. Even across the veil of death the living and the dead remain connected.
All Saints' Day, November 1, is the day we remember the hallowed, the saints who faithfully served God through lives of Christian service. They are exemplars of the faith and an inspiration to us as followers of Jesus in this life.
On November 2 we pray for those we love who have died. While their names are not recorded on the calendar of the church, they are known to us. In the All Souls' liturgy we pray for our beloved dead in confidence that though we are separated by death, the love we share does not end. We support those who have died with our prayers as they move from strength to strength into the fullness of God's presence. And we trust they pray for us as we run this earthly race.
On All Souls' Day Eve, Friday, November 1, we celebrate a Requiem Eucharist at 7 pm. Prayers are offered for those from the parish who have died in the past year. When you attend the Requiem Eucharist you are invited to bring pictures of your departed loved ones. They will be placed near the Font where the final prayers of the Eucharist are offered.
Our celebration of Allhallowtide culminates in a Festival Eucharist on Sunday, November 3 at 10 am. On All Saints' Sunday we will renew our Baptismal Vows, celebrating that we share in the inheritance of the saints, the promise of life eternal with God.
Our Christian hope asserts death is not the end. The living and the dead are bound together in the communion of the saints. There is nothing that can separate us from the love of God made known in Jesus Christ through the power of the Holy Spirit. For this promise we give thanks to God.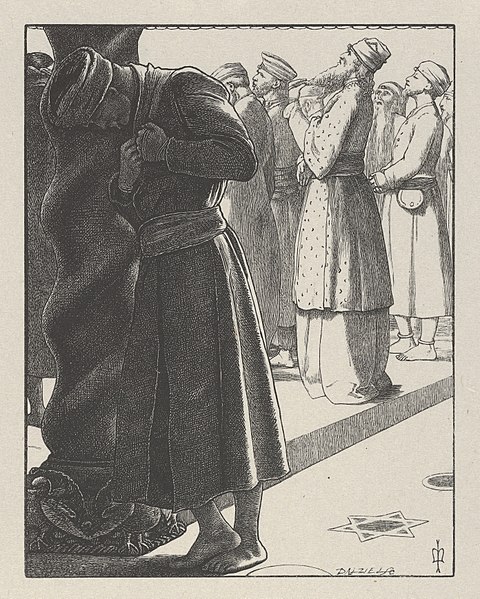 October 27, 2019
A great truth for us as Christians is the unfailing love God has for us. We are created to be in relationship with God, one another, and all of creation. God loves us simply because we are, not because we merit God's love. Because God loves us, we are always shown compassion, mercy, and forgiveness. When we sin, if we turn from our sin, repent, and put things right, God forgiveness us. This is true, no matter how many times we sin and repent.
Living in an age that so highly values the hard work and grit of the individual, we sometimes forget our need for God. We may fall into the delusion all we have and everything we have done is accomplished by ourselves alone. By focusing on ourselves, we forget God.
Our scripture readings this Sunday remind us we can do or accomplish little without God. In the Epistle, the author of the Second Letter of Paul to Timothy (2 Timothy 4:6-8,16-18) says, "…the Lord stood by me and gave me strength, so that through me the message might be fully proclaimed and all the Gentiles might hear it." Because God stood by Paul, protecting him, he was able to do the work God entrusted to him. Through God's invitation and guidance, Paul proclaimed the good news of Jesus to the Gentiles. All Paul did was accomplished through God.
In the Gospel (Luke 18:9-14) Jesus tells a parable warning about the danger of trusting alone in one's own merit and effort. It is a story of two men who go the temple pray. They pray very different prayers.
The first is a Pharisee. Pharisees were religious leaders of the people who taught others how to live lives of holiness. In his prayer to God, this Pharisee forgets all humility and gratitude to God, and indulges in the sin of arrogance and pride. He thanks God he is better than other people, including the tax collector also praying in the temple. He tells God how holy he is because he tithes and fasts twice a week. He is certain his acts of piety make him righteous in God's eyes.
While the Pharisee prays, so does the tax collector. Unlike Pharisees, tax collectors were not considered model citizens. They collaborated with the Roman occupiers, collecting Roman taxes. They had no salary, making a profit by gouging the poor. They were part of a system that preyed upon the poor and made tax collectors rich. They were considered unscrupulous and dishonest.
The tax collector has no delusions about his sin. He stands far off, unable to look up to heaven and beats his breast, saying, "God, be merciful to me, a sinner!" This man is humiliated before God and others. He knows his sins, acknowledging his sinfulness and need for God's mercy.
Both these men are pious, going to the temple to pray. But only one comes honestly before God, admitting his sin. Reflecting Luke's theme of reversal, the man who is most honest is the one least respected by society.
This parable offers a reminder that God loves us and shows us mercy not through our efforts. God does not love us as a reward for anything we have done, even good things, but because God is love and cannot help but love us and look on us with compassion.
The example of the Pharisee reminds us of the danger of thinking ourselves better or more holy than others. The tax collector calls us to follow him in being honest before God, acknowledging we have fallen short of the glory of God. We are assured that in confession and repentance we are lovingly forgiven by God and in heaven there is rejoicing for the one who has returned to God.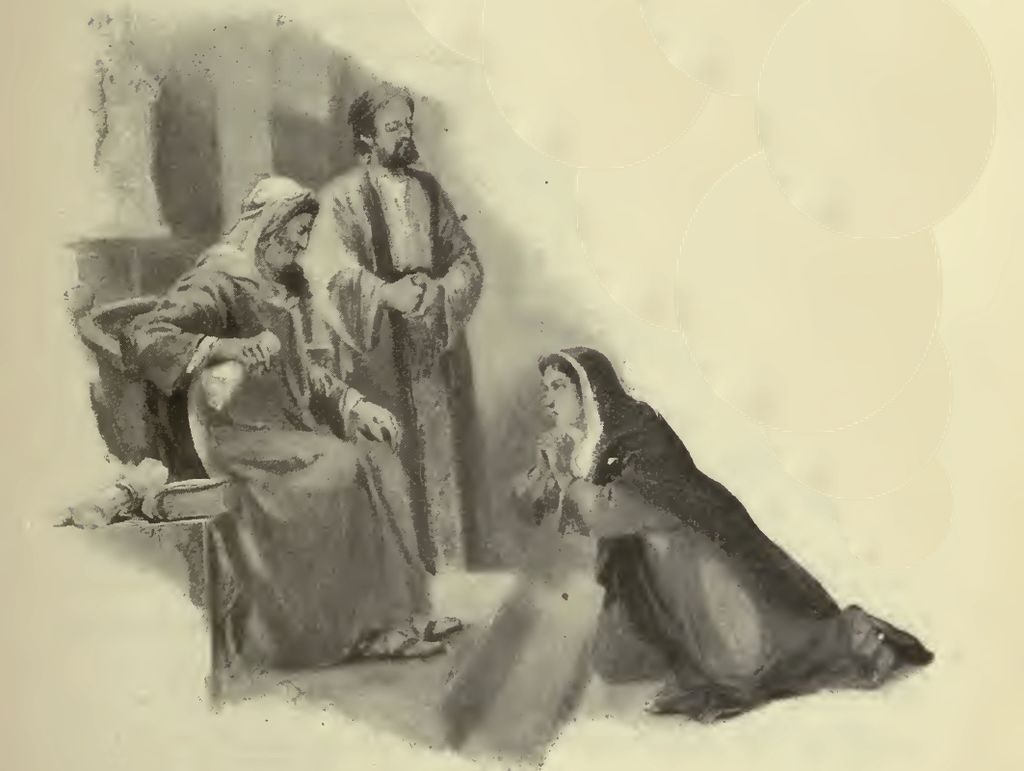 October 20, 2019
A theme woven through all the lessons this Sunday is persistence. We hear how Jacob wrestles with a man all night (Genesis 32:22-31). This match is a draw until Jacob's opponent hits his hip socket out of joint, leaving him with a limp for the rest of his life. At daybreak his opponent tells Jacob to let him go, but Jacob won't until the man blesses him. The man blesses Jacob, and says, "You shall no longer be called Jacob, but Israel, for you have striven with God and with humans, and have prevailed." Jacob realizes he wrestled all night with God. He is blessed by God and given a new name, a sign of a new relationship with God. Through his persistence, Jacob encounters God and is blessed.
The Epistle this week is a passage from Paul's Second Letter to Timothy (2 Timothy 3:14-4:5). It opens, "In the presence of God and of Christ Jesus, who is to judge the living and the dead, and in view of his appearing and his kingdom, I solemnly urge you: proclaim the message; be persistent whether the time is favorable or unfavorable." The author warns the time is coming when people will have "itching ears," finding teachers to suit their own views and needs. Followers of Jesus should remain persistent in the faith.
In the Gospel (Luke 18:1-8), Jesus tells his disciples "a parable about their need to pray always and not to lose heart." It is the story of an unjust judge who neither loves God nor respects other people. This is the type of judge we never want to stand before.
In the same city as the judge, there is a widow seeking justice against an opponent. At first the judge refuses, but he realizes this widow will keep coming until he grants her justice. To prevent her bothering him, wearing him out, he grants her request. He does this not for justice, but to spare himself. He knows she will be persistent until justice is served.
Jesus concludes the parable saying, "Listen to what the unjust judge says. And will not God grant justice to his chosen ones who cry to him day and night? Will he delay long in helping them? I tell you, he will quickly grant justice to them." If the unjust judge hears the widow and does what she asks, how much more will God listen to prayer and act?
Jesus tells this parable so his followers remain persistent in praying. God does not need pestering like the unjust judge. God does not consider our prayer a bother. God listens to our prayers because God loves us and desires justice for all God's people. God stands ready to hear our prayers more than we desire to pray.
The widow can be an inspiration to us in her devotion. She knows what she needs and asks for it. She knows who can do what she needs done. She goes to the judge and asks for what she needs. She does not retreat or give up when her request is not granted.
Like her, Jesus calls us to be persistent in our prayer, knowing God always hears us. We are invited to ask God for those things that are best for us, others, and the world. We are not to lose heart if we do not immediately receive an answer or understand how God is answering our prayer. We can trust God will answer, though it may not be when and how we expect.
Jesus invites us to not grow complacent or give up on prayer. We are to lift all the injustices of this world to God in prayer. So many in our world are in deep need. So many live with great injustice. In addition to using the political process, signing petitions, and attending marches and rallies, we are also called to pray. We should never underestimate the power of prayer nor doubt God will answer our heartfelt prayers.
When we offer prayers for ourselves and others, we are lifted outside ourselves. In prayer our vision is expanded. We can see as God does, seeing ourselves and others as God's beloved children. When we lift the injustices of the world to God in prayer, we enter into a holy and sacred space. In this place we are changed, formed into the people of love and compassion God calls us to be.
May we never lose heart, but persist always, being a people of regular and heartfelt prayer. Let us lift the needs and concerns of the world to God, trusting God will listen and respond.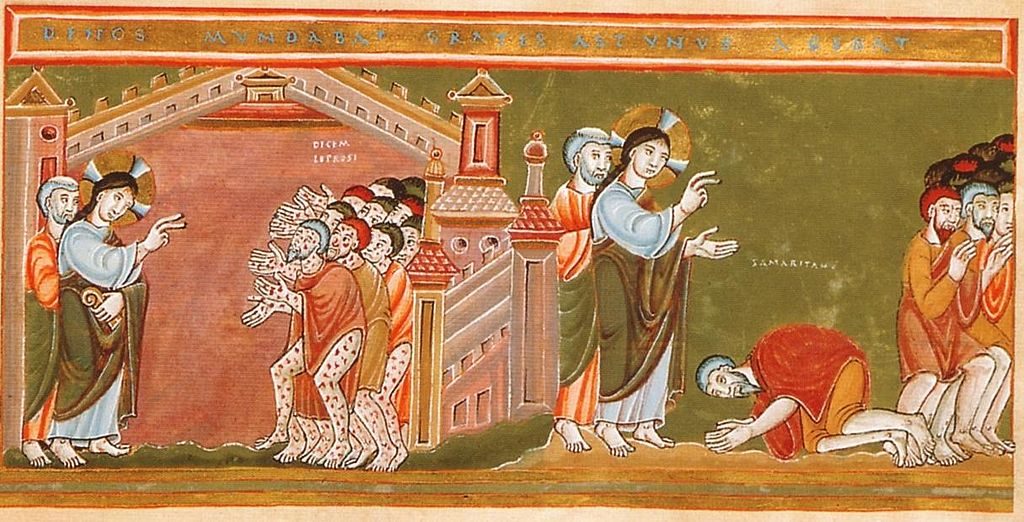 October 13, 2019
As followers of Jesus, we are called to be people who give thanks. This call is broader than experiencing moments when we know and express gratitude. Rather, Jesus invites us to live lives of gratitude. As people who are loved by God, more than we can know or imagine, we have much to be thankful for. From the goodness of creation God provides all we need to live. In response we are called to be faithful stewards of creation. Our response of gratitude is to return to God a portion of what we have been given (the Biblical norm is the 10% tithe) as a thank offering.
It is no surprise that our central act of worship is the Eucharist. Its very name is a Greek word meaning "thanksgiving." At the center of every Eucharist is thanksgiving to God for God's profound love and care of us. In the liturgy we give thanks for all God creates; for God's love, mercy, and compassion; for God coming among us in the person of Jesus; for the love Jesus has for us; for his death, resurrection, and ascension by which we are lifted to the divine life. In response to the broad loving initiative of God, we are invited to respond with our love and gratitude.
At the beginning of each Eucharistic Prayer, the celebrant says, "It is right, and a good and joyful thing, always and everywhere to give thanks to you, Father Almighty, Creator of heaven and earth" [BCP p. 361]. These words invite us to live giving thanks to God — not just in this moment of worshipping God, but always, everywhere, at all times, and in all places. Our very lives should be lived as an act of thanksgiving.
Sunday's Gospel (Luke 17:11-19) offers the account of ten lepers. Jesus, traveling towards Jerusalem, hears them call out from a distance, "Jesus, Master, have mercy on us!" They don't want to get too close to Jesus because of the disease afflicting them. Jesus has mercy on them, healing them. He tells them to go show themselves to the priests.
Upon noticing they are healed, one of the ten runs back, praises God, and prostrates himself at Jesus' feet. On seeing his gratitude, Jesus tells the healed man, "Get up and go on your way; your faith has made you well."
Responding to God's action in being healed, the man is unable to hold back his joy. Praising God, he returns to Jesus, falling at his feet. In telling us the man "turned back" after being healed, Luke is telling us something important happened in this man's life.
In scripture, turning back is not only a description of direction of travel. It has deep theological meaning. To turn back is to embrace a new direction in one's life. It can mark a time of conversion, of reorienting one's life to God.
Like the mean healed of leprosy, we are called to be attentive to God's action in our lives and the world around us. In response to God, we are invited to turn towards God. Like the man healed, we are to let our love and gratitude to God overflow until we cannot remain silent, but praise and worship God.
In living lives of thanksgiving, our joy will not be contained. Through our witness, others will see the power of God's healing and restoration to wholeness. Living this way we will be people of love, compassion, and mercy in a world full of hurt, anxiety, and division.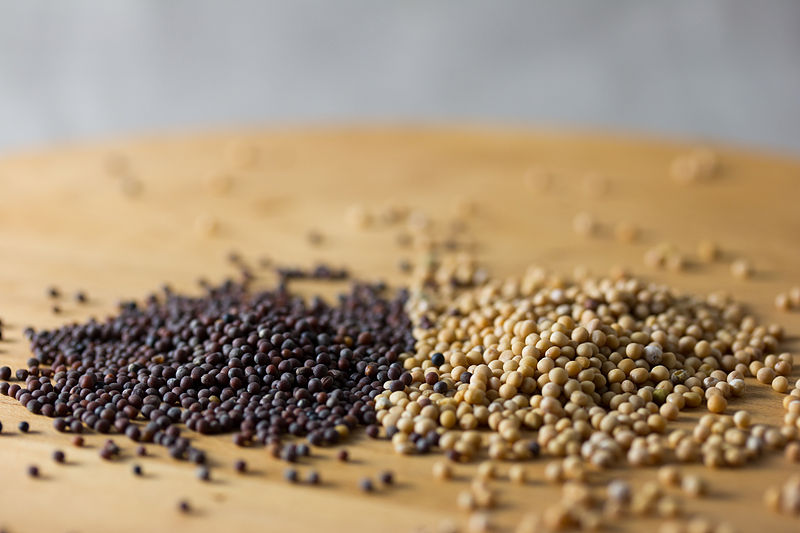 October 6, 2019
Sunday's Gospel (Luke 17:5-10) includes the familiar image of the mustard seed. This smallest of seeds grows into a shrub large enough for birds to nest in. In the Gospels according to Luke and Matthew (17:21) Jesus tells the apostles if they had faith the size of a mustard seed, they would be able to accomplish great things.
When the apostles ask Jesus to increase their faith, he replies, "If you had faith the size of a mustard seed, you could say to this mulberry tree, 'Be uprooted and planted in the sea,' and it would obey you." We can hear Jesus' words as a criticism of us. We can feel inadequate. If faith that small can do great things, we might worry our faith is woefully insufficient
This can be difficult to hear, given we often talk in the church about being created in the image and likeness of God and called to live into the fullness of the person we are created to be. We talk of being made worthy through the death and resurrection of Jesus. Now we hear Jesus say something that sounds critical of our faith. This can be especially challenging for those at the margins who have been excluded and judged negatively by the church.
What if Jesus does not intend to judge the apostles, or us, for a lack of faith? Perhaps Jesus is offering kind words of encouragement. The passage we hear on Sunday begins at verse 5. The preceding verses of Chapter 17 offer a hard saying on forgiveness. Jesus tells his followers they must forgive always, no matter how many times. If one sins and repents, we must forgive them, Jesus says, even if this happens "seven times a day."
Hearing these challenging words is what prompts the disciples to ask for their faith to be increased. They may be thinking this is too hard to do without more faith. How can one possibly forgive so readily and often? In response Jesus offers them kind words. They need only faith the size of a mustard seed, the smallest of seeds. That is sufficient for what he asks.
This Gospel reading offers commentary on living the Christian life. Followers of Jesus are to forgive those who repent, as many times as needed. This is difficult to do and likely goes against what we might think or feel. It can only be done by faith and trust in God. It is only possible with God's abundant grace.
God gives us the faith sufficient to follow Jesus. Rather than a commodity that can be increased or saved up, faith is a gift from God. It is a call to a way of life. Even a little faith, small like the mustard seed, is enough to live as Jesus calls. Jesus is telling his apostles, and us, to relax and trust God. Let go of the fear we don't have enough. God calls and God provides what we need to follow.
Our Collect of the Day this week echoes this important theme. In it we pray, "Almighty and everlasting God, you are always more ready to hear than we to pray, and to give more than we either desire or deserve: Pour upon us the abundance of your mercy, forgiving us those things of which our conscience is afraid, and giving us those good things for which we are not worthy to ask, except through the merits and mediation of Jesus Christ our Savior; who lives and reigns with you and the Holy Spirit, one God, for ever and ever. Amen."
God always stands ready to bestow on us more than we desire or even deserve. God forgives us and bestows abundant life on us. God sets us free from our fears and gives us more than are worthy to receive. God does more than we can ever ask of even imagine.
Through Jesus we are made worthy and set free from fear and scarcity to serve our God of abundance. Let us ask God what great things we might accomplish in Jesus' Name with the faith we have? What might God do in and through us by the power of God's love, compassion, and grace?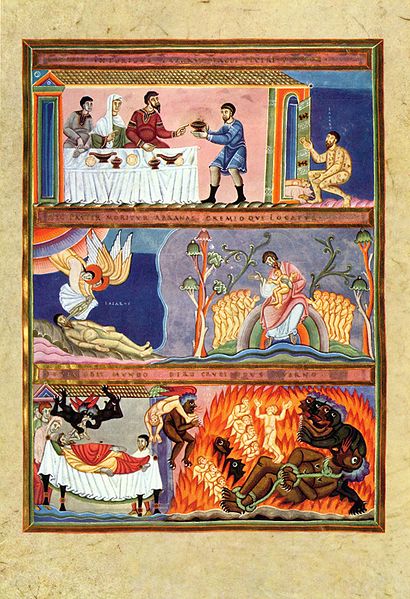 September 29, 2019
Sunday's Gospel is one of the most vivid parables Jesus tells (Luke 16:19-31). It is the story of two worlds that are very different, separated by a strong boundary. It is the story of two men. A rich man dressed in purple and linen, who eats scrumptious meals, and is rich enough to have a wall and gate around his house. This man lacks no comfort.
The second man is named Lazarus. He is so poor he sits at the gate of the rich man's home, dreaming of the crumbs from his well-supplied table. Not having good nutrition, unsurprisingly the man has health issues, including sores that dogs lick.
The rich man never sees Lazarus. He walks past him without considering his great need. He shows him no compassion. In his world of satiation and comfort, he is oblivious to the suffering of others around him. The parable does not show him to be wicked. He does not treat Lazarus poorly, driving him from the man's gate. Nor does the rich man organize his neighbors to drive the poor and homeless from their neighborhood. Rather, he simply seems oblivious and complacent, able to walk by Lazarus with unseeing indifference.
The two men die. Lazarus is buried and goes to Hades, where the dead are tormented (see 2 Esdras 7:36). He is in agony in the flames of Hades, longing for cool water. In contrast, Lazarus dies and is not buried. He is carried by the angels to Abraham's bosom. There he no longer is hungry, but is comforted. He is seen and valued. He is safe in Abraham's arms.
The rich man, in his torment, calls out to Abraham to send Lazarus to give him cool water. Even after death and consignment to the fires of Hades, the man does not see Lazarus. He speaks of Lazarus in the third person, looking at him as someone to serve the rich man.
Abraham does not grant the rich man's request. He tells him a great chasm has been placed between the two worlds and no one may cross. The rich man then asks Abraham to send Lazarus to his living brothers, warning them what they will face if they do not live differently. Abraham refuses, saying they have Moses and the prophets to listen to. That should be sufficient for them. Besides, even if someone rose from the dead the brothers would not believe.
This parable contains a rich and dramatic story that is easy to understand, yet is potentially frightening to us who are middle class. While not rich by the standards of our nation, we certainly are richer than most of the world. Most of us live in a comfortable home and enough food of good quality and variety to eat. The parable calls us who have enough to shake off our blindness and indifference. It is a reminder to not let our comfortable life dull our awareness of the suffering around us.
Who are the people we see daily who suffer lack of food and have great needs? Certainly as I drive through the neighborhood, especially along North Main Street, I regularly see people asking for money at the stop lights. Often there is someone on each corner. Sometimes I willingly stop and offer some cash. But I am not proud of the times I hope the light will remain green so I can drive by those at the corner, pretending to not see them. When I do so, am I any different from the unseeing rich man ignoring Lazarus at his gate?
God has given us all we need to live the abundant life of loving service to which we are called. Like the rich man, we have Moses and the call of the prophets. We have John the Baptist calling us to repent and share one of our two coats with those without a coat (Luke 3:10-11).
And we have Jesus, God come among us to lift us to the divine life. Jesus taught and ministered to those in need, loving all to the end. He was crucified, buried, and raised on the third day. He gives us the grace to die to a life focused on ourselves and rise to the new life of loving service. Jesus comes to move us from the blindness of our comfort and complacency to serving all in his Name. For when we care for a person who is suffering and in need we serve Jesus (Matthew 25:34).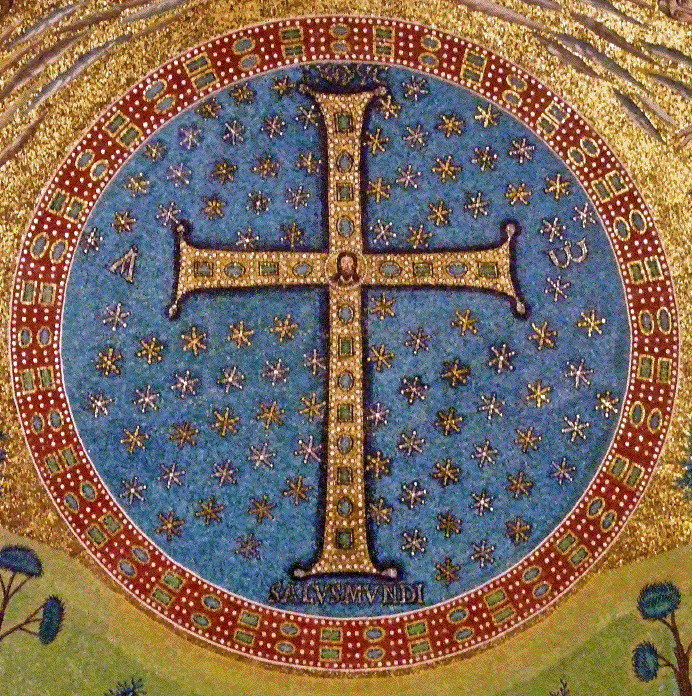 September 15, 2019
In the fourth century there was great interest in Holy Land sites associated with life, ministry, death, and resurrection of Jesus. When the Romans destroyed Jerusalem in 70 CE, Golgotha, the hill outside the city walls where Jesus was crucified, was covered in tons of soil.
Helena, mother of the Roman Emperor Constantine, oversaw excavation at the site tradition held was where Jesus was crucified and buried. A great church, the Church of the Holy Sepulcher, was built and became an immediate site of pilgrimage. On September 14, 335 the Church of the Holy Sepulcher was dedicated. That day became the feast of Holy Cross Day.
In 2016 work was completed on a restoration of the structure, called the Edicule, built over the traditional site of the tomb of Jesus. The last restoration was in 1810 after a fire endangered the structure. In the 1940s metal bands were attached to the exterior to hold the walls upright. During the recent work, layers of marble slabs from the Middle Ages and the fourth century were removed. Below them was rock from the first century that may be the surface the body of Jesus rested upon.
As a church dedicated to Jesus our Redeemer, we celebrate Holy Cross Day as our Feast of Title. This is the equivalent of a parish dedicated to a saint celebrating their patronal festival. Our celebration is affectionately known as "Redeemer Day." It is a time for us to celebrate the many blessings God has generously bestowed on this parish. We give thanks for the generations who have gone before us. We give thanks we have been called to this community. And we look with anticipation to the important work and ministry God is calling us to undertake in the future.
As followers of Jesus our Redeemer, the cross is central for us. The Collect for Holy Cross Day prays, "Almighty God, whose Son our Savior Jesus Christ was lifted high upon the cross that he might draw the whole world to himself: Mercifully grant that we, who glory in the mystery of our redemption, may have grace to take up our cross and follow him."
To follow Jesus is to take up our cross. This journey is costly. It requires us to relinquish our will to God's. It calls us to offer ourselves in loving service, caring especially for the least and marginalized. In so living, Jesus promises to draw us to himself, lifting us with him through the victory of the cross. Through the cross we are lifted from this world to the divine life of the Trinity. This victory won for us sets us free from the dominion of sin and death, bringing us to an abundant life we cannot even imagine.
The life to which we are called is nothing short of walking in the light of Christ. John's Gospel tells us Jesus is the eternal word come into the world, the Light that, "shines in the darkness, and the darkness did not overcome it" (John 1:5). This light, stronger than the powers of evil and death, transforms our lives and our world. By this light we see as God sees, we gaze upon the whole creation bathed in God's love.
As the Baptized people of God, we promise always to walk in this light. The path is expressed in our Baptismal Covenant. We promise to be faithful in the teaching of the apostles and worship of God; to persevere in resisting evil, repenting when we sin; proclaiming by word and example the Good News of God in Christ; seeking and serving Christ in all persons, loving our neighbor as ourselves; and striving for justice and peace among all people (BCP pp. 304-5).
The life to which we are called we share with Jesus who was lifted high on the cross. Not counting the cost, he gave his life in love, drawing all to him. He calls us to follow, walking this way of sacrificial love, losing our life to find it. As a parish dedicated to Jesus our Redeemer, may we always walk by the light of his love.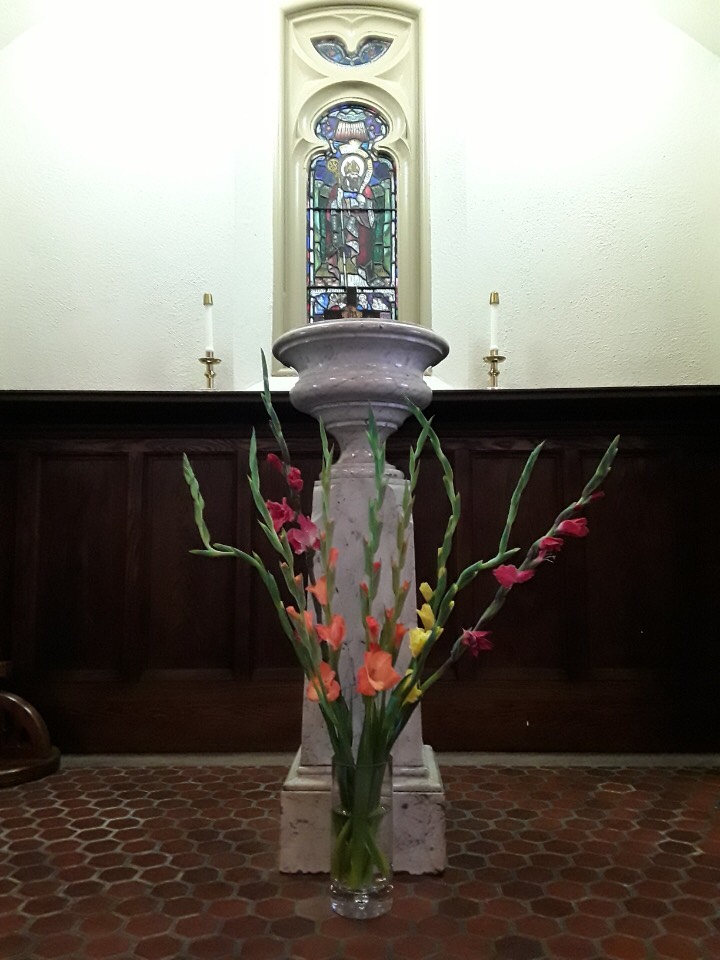 September 8, 2019
Typically on Sunday the Epistle appointed for the day is a passage from a New Testament letter, often written by Paul to a church community. It only happens on one Sunday in our three year lectionary we read an entire letter of Paul (minus the final two verses).
This happens Sunday when we read Letter of Paul to Philemon. It is not clear when Paul wrote the letter, though he says he writes from prison. Most scholars think it was not written during his final imprisonment in Rome (60-62) but an earlier time, perhaps in the mid-50s.
The letter is the most personal written by Paul, addressed to an individual, Philemon. From the letter, we know Philemon was the leader, along with his wife Apphia, of a church in Colossae that met in his home. In the first decades of the church, the worshipping community gathered in homes large enough to accommodate them. Public buildings as we know today come about in the 4th century.
In his letter Paul expresses affection and gratitude for Philemon and his ministry. We learn that Philemon became a Christian through Paul's ministry. Paul highlights the relationship the two men have as co-workers, partners in the Gospel, and brothers in Christ.
Paul writes this letter to ask Philemon a huge favor, something Philemon would likely find difficult. While the exact details are unknown, Paul writes about Onesimus who was enslaved by Philemon. Onesimus apparently ran away from Philemon and is now with Paul in prison. Onesimus may have stolen something from Philemon. While with Paul, Onesimus has become a Christian through Paul's ministry. Even while imprisoned Paul ministers in Jesus' name and peoples' lives are changed.
Paul is sending Onesimus back to Philemon and asks he be received not as a slave but a brother, an equal. Paul wants Philemon to free Onesimus. Paul offers to make restitution for anything owed Philemon.
Paul does this because now that Onesimus has been baptized, he is an equal in Christ. Through baptism the divisions of this world are torn down. As Paul writes to the Galatians, "As many of you as were baptized into Christ have clothed yourselves with Christ. There is no longer Jew or Greek, there is no longer slave or free, there is no longer male and female; for all of you are one in Christ" (3: 27-8).
Through baptism all are adopted as sons and daughters of God and put on the identity of Jesus. All are one in Christ. All the boundaries of inequity and injustice are torn down. In Christ no one should exercise power over another.
What Paul asks of Philemon is challenging. In the first century slavery was legal in the Roman Empire. Slaves were to be punished if they ran away, even being put to death. Philemon was expected by his culture to punish Onesimus. If he freed Onesimus, this would bring shame on Philemon in the eyes of others. Additionally, there would be shame in the financial loss if Onesimus is freed. What Paul asks challenges Philemon socially and economically.
Paul does not make this request lightly. Throughout his letters, he calls the followers of Jesus to costly discipleship. Following Jesus is not a casual affair. There is a cost. Paul knows this as well as any disciple. He gave his life over to Jesus, experiencing ridicule, flogging, and imprisonment. At Rome he is killed for his faith.
Paul's Letter to Philemon reminds us following Jesus requires a real commitment. Discipleship is challenging and has a cost. We are called to give up the ways of this world and put on Christ, living by sacrificial love.
Through baptism we become a new creation in Christ, becoming the household of God. In this community we are to exercise great love for one another, tearing down the unjust ways of the world. Rather than exercising power over one another, we are to honor and love as Jesus does.
Through the power of the Holy Spirit may we live as the community God calls us to be. Putting on Christ, may we be the presence of Christ to one another and the world. Through our witness may God's love transform the face of the earth.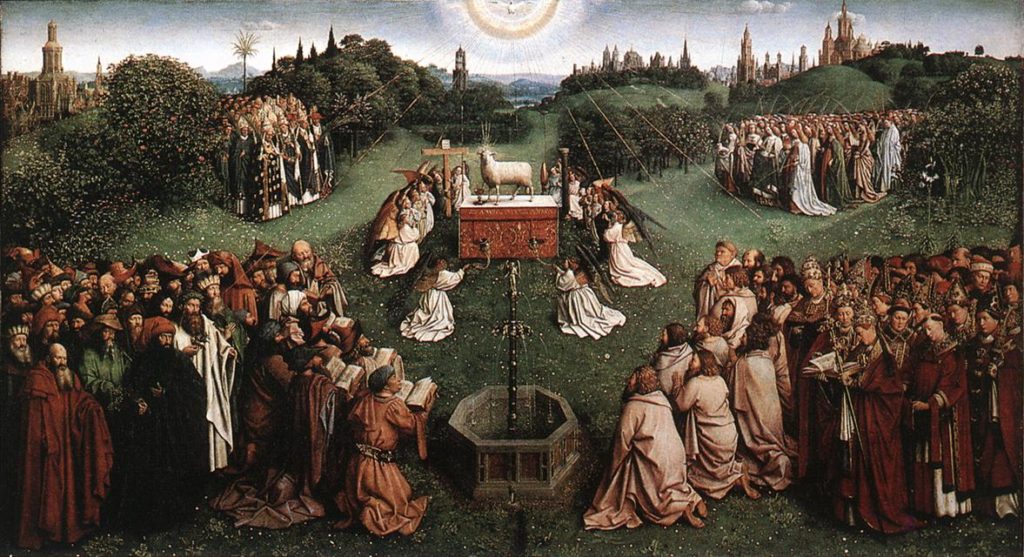 September 1, 2019
Often when a wedding is planned much attention is focused on the meal. A venue must be found, a menu chosen, the cake selected, flowers and decorations planned. One of the most challenging tasks can be the seating plan. How many guests fit in the hall? Who sits at which table? Attention is paid to the relationships guests have to the couple and others attending. People are typically grouped with others they know. Usually there is little about the seating left to chance.
In Jesus' day wedding feasts were also carefully structured. Attention was paid to the status of each guest. Those with wealth, power, and prestige were given the best seats. The rest sat in relation to those of highest status. If a guest of high status arrived late, a guest of lesser status would be asked to surrender their seat and move to a place of lower status.
The Gospel this Sunday (Luke 14:1, 7-14) has Jesus attending a meal on the Sabbath in the home of a Pharisee. Luke tells us all attending are watching Jesus. The Pharisees, as we have heard the past weeks, watch to see when Jesus does something they find questionable or wrong. In particular, they are critical of Jesus healing on the Sabbath.
Jesus watches guests taking the seats of honor. In response, Jesus tells a parable about a wedding banquet, offering the advice one should choose a seat of lower honor. That way, if someone of higher status arrives, the guest is not asked to move to a more humble seat. And there is the possibility the host invites a guest to move up to a seat of greater honor.
Jesus' teaching is sound practical advice. If followed, it helps a guest avoid being disgraced. In his parable, Jesus quotes Proverbs 25:6-7, "Do not put yourself forward in the king's presence or stand in the place of the great; for it is better to be told 'come up here,' than to be put lower in the presence of a noble." Jesus summarizes what he is saying with the words, "For all who exalt themselves will be humbled, and those who humble themselves will be exalted."
This final statement shifts what Jesus is saying from practical advice on how to avoid being disgraced to an important theological statement. A prominent them of Luke's Gospel is God's reversal in which the lowly are exalted and the mighty cast down. Jesus himself embodies this reality. He is God incarnate, humbling himself to put on human flesh. Jesus humbles himself in serving others and giving his life on the cross for humanity's redemption. And God highly exalts him in the resurrection and ascension.
Sunday's passage concludes with Jesus telling us when we host a luncheon or dinner, we should not invite those who can repay us. Rather, we should invite those who can give us nothing: the poor, the crippled, the lame, and the blind. They will not reward us, but we will be rewarded in God's realm.
For us as Christians meals are a foretaste of the heavenly banquet God prepares for God's people. The Eucharist is a foretaste of this heavenly meal. Jesus reminds us of the call to serve others, not seeking our own honor. When we gather for the Eucharist, we should glimpse eternity. At this table earth and heaven are united and we are called to welcome all with no regard for earthly status. Every child of God is welcome and the altar should mirror the reality of the heavenly banquet.
May we put away all earthly pretense when we come to the table to receive the body and blood of Jesus. Let us invite one and all, especially the least, forgotten, and marginalized to the Eucharistic banquet. May all be welcomed and given a place of honor in our assembly, as it is in the heavenly banquet, the wedding feast of the Lamb.
August 25, 2019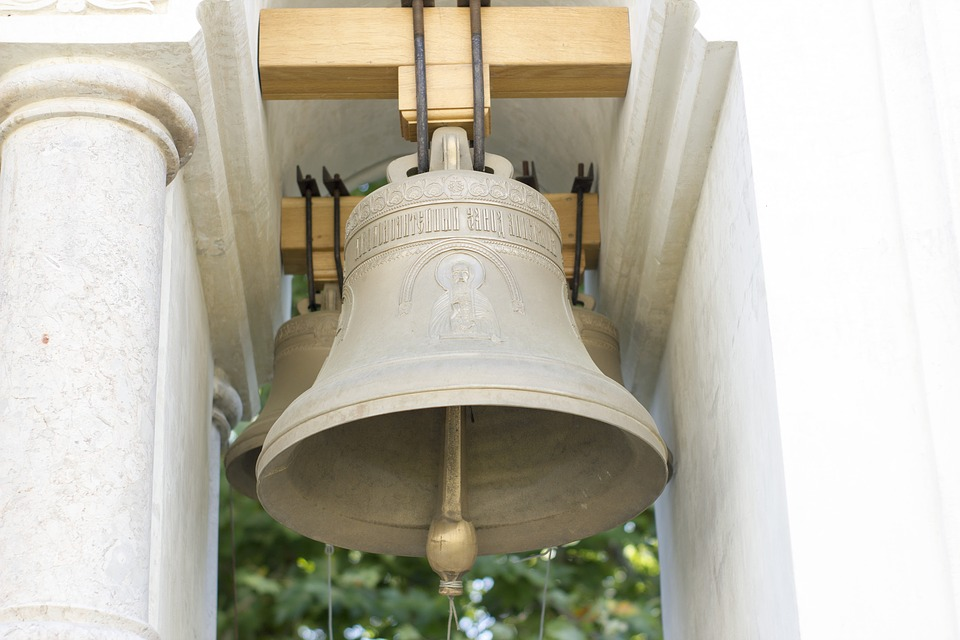 Sunday is the 400th anniversary of the beginning of chattel slavery in the United States. On August 25, 1619 twenty captured Africans arrived in the Virginia colony at Port Comfort. They had been seized by English pirates off the coast of Mexico from a Portuguese slave ship. The Africans were sold to English colonists in Virginia for labor.
This anniversary offers us the opportunity to highlight two important themes in our history as a nation. The first is the significant contribution enslaved Africans made to our country. Through their labor as slaves the economy of this nation was built, particularly because of cotton production. Without the unpaid labor of enslaved people this would not have been possible. Despite the myths that persist, the economy of the entire nation, North and South, was built upon the contribution of African people working in slave labor. After the end of slavery, African Americans continued to contribute significantly to this country, up to the present day. Their contributions have largely been overlooked, especially by white Americans.
Secondly, this commemoration is a chance for us as a nation to mourn our actions in kidnapping Africans and enslaving them in this country. It invites us to learn our history as a people, seeing clearly the system of white supremacy that was put in place to justify and support slavery (including theology articulated by the church). This racist system continues in our nation today.
The National Park Service will mark this anniversary with events throughout the weekend at Fort Monroe. They have invited people across the country to join them in marking this anniversary by tolling bells. The National Park Service asks for bells to be rung for 1 minute, beginning at 3 p.m., as part of a Healing Day at Fort Monroe in Virginia to commemorate the landing of the first slave ship. For information visit Fort Monroe's website by clicking here.
Our Presiding Bishop, the Most Reverend Michael Curry, has asked Episcopal parishes to toll their bells. You can view his invitation to the church extended through video by clicking here.
Our own Center for Reconciliation issued this statement to parishes of our Diocese:
August 25th, 2019 marks the 400th anniversary of the arrival of "20 and odd" captive Africans at Port Comfort, near Jamestown, Virginia, thus marking what is considered to be the official beginning of racial slavery in English North America. Presiding Bishop Michael Curry, the Diocese of Virginia, UNESCO, the National Park Service, the national Middle Passage Ceremonies and Port Markers Project and the Center for Reconciliation invite all people of faith to participate in the commemoration of this anniversary today at 3:00 pm by ringing a bell.
Historian Catherine Zipf, PhD reminds us that, "bells have great symbolic meaning to many societies. This national bell ringing celebrates the value, persistence, strength, and courage of these ancestors and will enable all Americans to participate in this historic moment in the spirit of peace, freedom, and unity wherever they are and to share stories about the role played by Africans and their descendants in the history of the nation.
The landing of enslaved Africans at Point Comfort and the various Middle Passage locations was a link in a chain of profound events that shaped the United States. Commemorating that history honors the lives of these African people and their descendants, acknowledges their sacrifices, determination, and contributions, and encourages a re-shaping of the history with a more honest and inclusive telling of the story that will continue to unfold and inform."
On Sunday I have been asked to offer prayers at the CFR gathering at our Cathedral of St. John on North Main Street. You are invited and welcome to attend.
August 18, 2019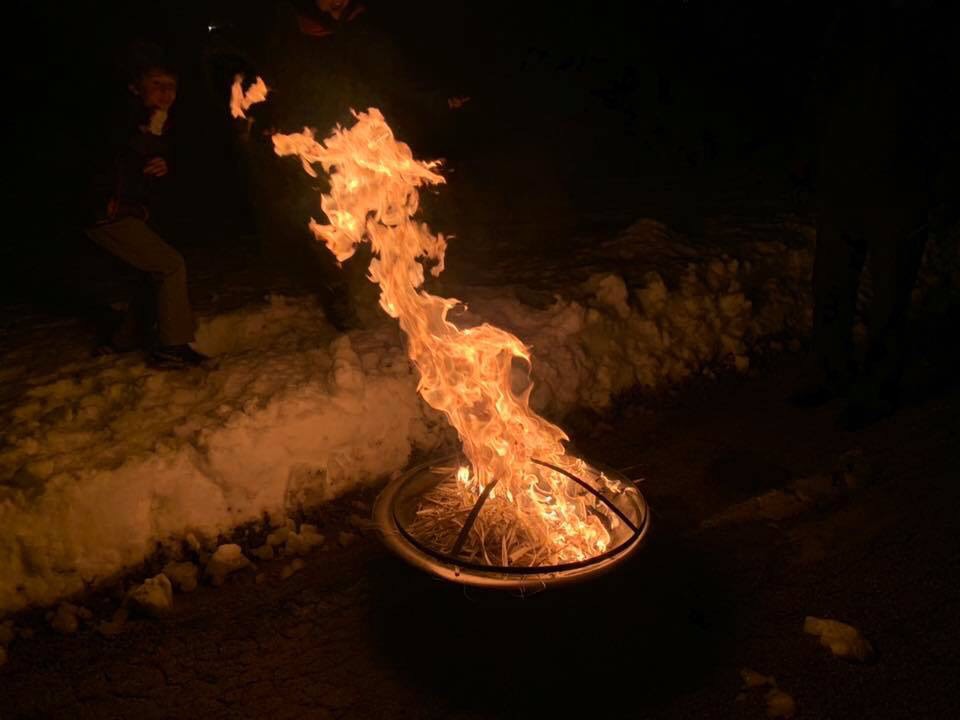 It is mid-August, the season of lazy days, summer vacations, and summer reading. Perhaps when we come to church in this season we expect a similar mood. But be forewarned, the scripture readings this Sunday are anything but serene and restful.
From the prophet Jeremiah (23:23-29) we hear, "Is not my word like fire, says the Lord, and like a hammer that breaks a rock in pieces?" In our Epistle from the Letter to the Hebrews we hear of our heroes of the faith. But unlike earthly heroes they suffered terrible things, such as stoning, mocking, flogging, chains, imprisonment, and being put to death for their faith.
In our Gospel (Luke 12:49-56) Jesus is not taking a vacation, resting on a beach somewhere. Rather, the passage opens with Jesus saying, "I came to bring fire to the earth, and how I wish it were already kindled! I have a baptism with which to be baptized, and what stress I am under until it is completed!" Jesus goes on to say he has not come to bring peace, but rather division.
What are we to make of these words? How are to understand Jesus' words? Isn't he the Prince of Peace, the One Luke's Gospel proclaims is born to usher in goodwill among people? What is Jesus saying to us?
The peace of God is not the same as human peace. Human peace is typically understood as the absence of conflict. God's peace is the peace of shalom. Shalom is working for the full personhood of every person. Shalom affords all people their dignity as those created in the image and likeness of God, of those beloved of God.
Living by God's peace, proclaiming shalom in one's life, is at odds with the ways of this world. Doing so will inevitably bring division and strife. While Jesus does not come to sow division, taking discipleship seriously means living in opposition to the values of this world. This may cause division.
We saw this on Wednesday night when Never Again Action, a Jewish activist group was protesting immigration policy at the Wyatt Detention Center in Central Falls and a correctional officer allegedly drove his truck through the protest, striking several people. The protesters say the Central Falls police did nothing in response. (For the story, click here).
These protesters believe their faith calls them to respond to the immigration practices of the federal government which they find unjust. There action threatens the status quo and prompted a response from the officer based on a different set of values and assumptions.
As followers of Jesus we are called to live by a higher calling than the ways of this world. If we do so, however, we will be judged by others who do not share our calling. Division and strife may result, even within our own household, among members of our own family.
Our epistle assures us, however, we are not alone. We "are surrounded by so great a cloud of witnesses." These heroes of the faith gave their lives in witness to Jesus, even enduring the agony of death for his sake. Just as Jesus sets his face to Jerusalem, willingly enduring his cross, passion, and death, so they gave their lives for Jesus' sake. They are an inspiration and support to us as we likewise walk with Jesus. We share with them citizenship in the household of God, in the community of those washed in the blood of Jesus. With them we already share in Jesus' resurrection.
We are assured that through the death and resurrection of Jesus, in which we share through baptism, we are set free. Walking with Jesus in resurrection life we are free to love extravagantly, witnessing to God's love and living by God's shalom. We are assured no power of this world, even evil and death, are stronger then God's love. Through the witness of all the followers of God, the power of God's love made known in Jesus by the power of the Holy Spirit can transform the face of the earth.
August 11, 2019
This year is being observed as the 400th anniversary of the beginning of slavery in what would become the United States. On August 25, 1619 20 captured Africans arrived in what is now Virginia. They had been seized by English pirates off the coast of Mexico, from a Portuguese slave ship. The Africans were sold to English colonists in Virginia for labor. For an article about this anniversary, click here.
This anniversary was not a motivator for my recent sabbatical examining race and white supremacy. My work was largely the outgrowth of initiatives in the Mt. Hope neighborhood and my response to the racial tensions in our nation. This terrible milestone this month makes clear the timeliness of my experience.
This week I want to share more of my sabbatical experience with you, focusing on the Legacy Museum and The National Memorial for Peace and Justice, both undertakings of the Equal Justice Initiative in Montgomery, AL.
The Legacy Museum teaches about the legacy of slavery, and its continuation through Jim Crow and mass incarceration, in the oppression and dehumanization of people of color. One of the first things I saw upon entering the museum was text tracing the history of the land the museum now occupies. Located on Commerce Street in the heart of downtown Montgomery, the land originally belonged to the Crete Indians and was taken from them by white settlers.
The part of Commerce Street occupied by the museum, as well as businesses and hotels, was the site of warehouses and slaves pens. Slaves were held in the pens from their arrival in the city until sold at public auction. Slaves were transported by boat on the Alabama River and on a railroad built by slave labor.
In connecting the legacy of slavery with Jim Crow laws and mass incarceration, I learned several things. As during the days of slavery, certain assumptions about African Americans are perpetuated into the present, including the presumption of guilt, not innocence. The Civil Rights movement, while having an impact on US society, changed little in the criminal justice system. The US has 5% of the world's population and 25% of the world's incarcerated. The rate of imprisoned women in this country has increased 646% in the past 25 years.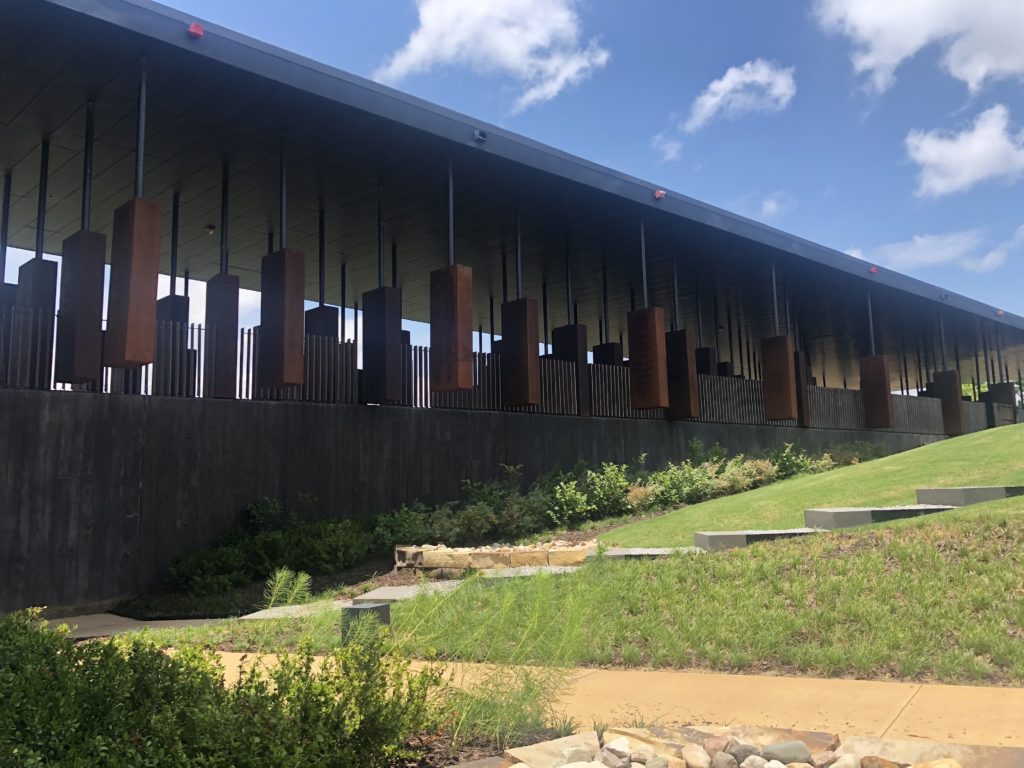 After visiting the museum, I traveled across the city to The National Memorial for Peace and Justice. This site is called a sacred place to remember and memorialize the more than 4000 people known by name to have been lynched. Artists have created haunting sculptures found on the six acre site. 800 steel monuments, one for each county in the country where a racial lynching took place, list the names and death date for each person lynched.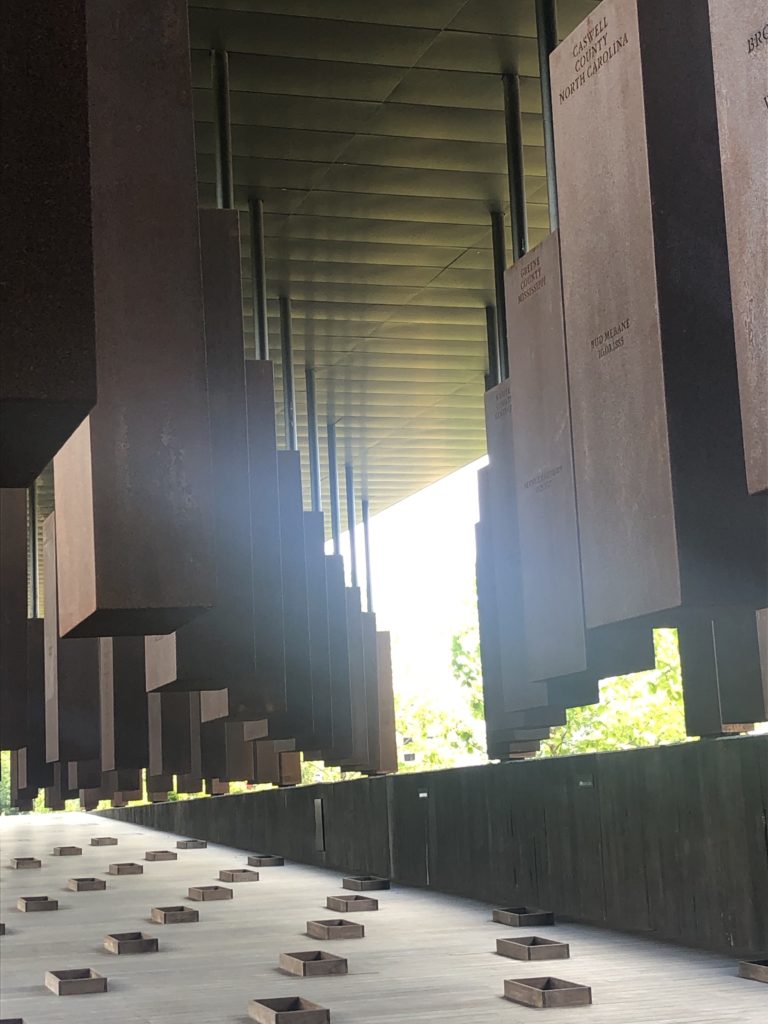 This is one of the most difficult places I have ever visited. It was emotional seeing the horror of lynching represented in the 800 monuments carrying far too many names. I spent time sitting in the heart of the Memorial feeling grief. The only appropriate response seemed prayer. I prayed the Great Litany and prayers for the dead from the Book of Common Prayer. I asked God to move the hearts of the white church, including my own, to confront this history and work to dismantle white supremacy.
At the Legacy Museum are several panels as visitors leave the exhibit space. They ask visitors what they will do about all they have learned and seen in the museum. One was addressed to the white church and I think it is worth reflection:
"Throughout most of the 20th century, many white churches openly supported racial segregation and refused to permit black people to worship with them. The role of the church in supporting slavery, being silent about lynching and terrorism, and justifying racial segregation has never been acknowledge. Do churches and people of faith have a special obligation to address the history of racial inequality?"
August 4, 2019
It is a great joy to return to the Redeemer after three months of sabbatical. My time away was fruitful and restful. It was also educational and challenging. I think it will take time for me to process what I have experienced and how to share it with you. I come back to the parish filled with gratitude for the opportunity you graciously gave me.

This week I want to share an overview of what the past months have been for me. The beginning of May was a time for rest and detaching. I spent some time visiting family. I began reading the volumes on my reading list. Three days were spent on retreat at the Society of St. John the Evangelist, an Episcopal monastery in Cambridge. These days of silence and prayer in community set a tone for the following weeks.

Originally I thought during sabbatical I would make a pilgrimage to Canterbury Cathedral in England. While this would have been meaningful, I felt it did not relate to my sabbatical work on race and white supremacy directly. At any time I could travel there. Instead, I increasingly felt called to journey to Montgomery, Alabama.

In mid-June I spent a week in Montgomery. This city, the capitol of Alabama, was central in the Southern slave trade. Its location on the Alabama River near an important railroad line from Atlanta to New Orleans (built with slave labor) was a vital link in the selling of slaves from the upper South the newly developing cotton plantations in the Southwest.

In the mid-twentieth century, Montgomery was an important center in the Civil Rights movement, most notably in the bus boycott of 1955-56 that began with Rosa Parks and was led by the Rev. Dr. Martin Luther King, Jr., pastor of the Dexter Avenue Baptist Church in Montgomery.

Today Montgomery is home to Equal Justice Initiative. As it says on their website, "The Equal Justice Initiative is committed to ending mass incarceration and excessive punishment in the United States, to challenging racial and economic injustice, and to protecting basic human rights for the most vulnerable people in American society."

The EJI is very present in Montgomery through the Legacy Museum where the history of slavery, lynching, and mass incarnation are highlighted and connected, as well as the National Memorial for Peace and Justice where the more than 4,000 people lynched in this country are remembered by name. I also visited the Rosa Parks Museum and the Freedom Rides Museum located in the city.

The remainder of my time I spent locally, and visited several sites, including the Royall House and Slave Quarters in Medford, MA, a surviving 18th century home with its slave quarters extant, and the Robbins House, home of a free African American family in Concord, MA. I went on the African American Heritage walking tour of Beacon Hill, Boston offered by the US National Parks Service.

In addition to time spent reading, there was time for recreation and refreshment, including a week spent in Vermont, visiting art museums, and time with family. On Sundays I attended the 9 am Eucharist at SSJE, being wonderfully fed by their liturgy, music, and fine preaching. In all it was a rich and rewarding experience.